"Turnin' dirt" on the Loop 303 in Surprise
"Turnin' dirt" on the Loop 303 in Surprise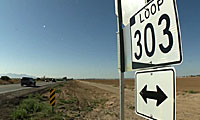 Think back to 1984. You might recall that the United States hosted the summer Olympics in Los Angeles and Michael Jackson's Thriller snagged eight Grammy Awards. It's also when the Maricopa Association of Governments (MAG) identified the need for a West Valley regional connector freeway later to be dubbed Loop 303.
After years of scoping, study, assessment, public input and design the Loop 303 is taking shape in the West Valley. In May, a four-lane section between Interstate 17 and Happy Valley Parkway opened; and, just last week, preliminary construction work began on the next leg in Surprise, between Mountain View Boulevard (just south of U.S. 60/Grand Avenue) and Peoria Avenue.
Many who live and work in the northwest valley have been eagerly waiting for ADOT to "turn dirt" on this six-mile segment of new highway. Right now, crews are establishing water sources so they can pre-wet the ground before excavation; surveying the alignment so utilities can be relocated; and clearing the work zone of weeds and debris. In the weeks to come, the area will become an active work zone, with construction occurring on the roadway and on new bridges throughout the six-mile area simultaneously.
This phase of the Loop 303 Improvement Project is scheduled to last about two years and will transform the existing, two-lane roadway into a modern urban freeway. By fall 2013, it will include three lanes in each direction with a median, auxiliary lanes and signalized traffic interchanges at Bell, Greenway, Waddell and Cactus Roads.
No doubt, there will be impacts to area traffic while this work is underway. ADOT will provide information about possible lane restrictions, road closures or detours in advance. In addition to traffic information, ADOT is committed to providing information about other possible impacts to the surrounding community, and provides simple ways for residents and businesses to stay informed:
Visit our Projects page and sign up to receive email updates. ADOT sends email alerts to subscribers weekly or as needed.
Questions or comments? Call the toll-free ADOT Project Hotline at 855.712.8530.