Two projects now rejuvenating weather-damaged I-40 stretches west of Flagstaff
Two projects now rejuvenating weather-damaged I-40 stretches west of Flagstaff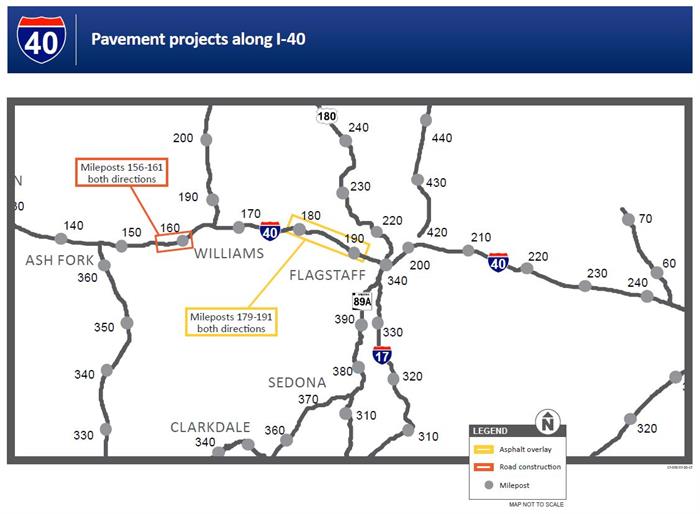 By Ryan Harding / ADOT Communications
After getting beat up by years of freezes, thaws and heavy weather, Interstate 40 west of Flagstaff is getting a much-needed upgrade in the form of two projects.
First, crews are grinding down several inches of damaged pavement between mileposts 179 and 191 in both directions and replacing it with fresh asphalt. They're about halfway through and hope to have both directions repaved between mileposts 179 and 185 in the next couple of weeks.
Bridge deck repairs at the Bellemont overpass are underway, with similar repairs starting at the Riordan bridge this week. Those heading westbound on I-40 will need to watch for a lane closure at milepost 191 for the next several weeks so crews can make necessary repairs.
Also halfway completed is the guardrail replacement portion of this project. Guardrail on the eastbound side of this stretch of I-40 is complete, and crews have started on the westbound side.
The goal is to have the majority of paving, the bridge repairs and guardrail replacement done before cooler weather strikes the northern region this fall. Crews will then return next spring when the weather warms up to add the final top layer of asphalt to the highway as well as rebuild the on- and off-ramps at the Bellemont interchange.
Starting on Monday, July 24, ADOT is starting more extensive pavement repair project along I-40 west of Williams. Crews will be rebuilding the highway from the ground up, including a new foundation, between mileposts 156 and 161.
We worked to push this much-needed project though the approval stages so it could begin this summer and address the beating this section of I-40 has taken over the years due to weather. This project will provide the best possible fix for that damage.
Drivers heading east on I-40 toward Williams and Flagstaff will cross the median on a temporary road and share lanes with westbound I-40 traffic through the project area, with one lane of travel in each direction. Be sure to slow down and budget for extra travel time.