Understanding the Pedestrian Hybrid Beacon
Understanding the Pedestrian Hybrid Beacon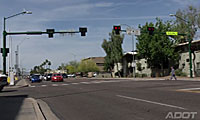 Since ADOT installed its first pedestrian hybrid beacon back in 2012, motorists have likely noticed more and more of these devices…
They're designed to assist pedestrians who are crossing a street or highway at a marked but unsignaled crosswalk. This special type of traffic light utilizes a system of indicator lights and signs that alerts drivers and controls vehicle traffic. Pedestrian hybrid beacons have been deployed across the nation, including the Phoenix and Tucson metro areas, to improve safety for pedestrians.
If you've ever had a question about how to use one, today's video should provide the answers!
You can also revisit some of our previous blog posts or check out azdot.gov/PHB for even more details.