US 60 pedestrian signal project starting June 11
US 60 pedestrian signal project starting June 11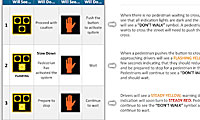 Think you know all there is to know about traffic signals?
Let us introduce you to the Pedestrian Hybrid Beacon. It's not your traditional traffic control device (different configuration … two lights side-by-side on top, with one below), but it is similar to what drivers are familiar with.
In fact, most motorists have probably already encountered a Pedestrian Hybrid Beacon. They're not brand new to the world of traffic control devices – PHBs have been used to improve service for pedestrians throughout the country, including the Tucson and Phoenix metro areas. However, ADOT will be installing its first PHB next week at US 60 and High Street in Globe.
PHBs are a type of device used to warn and control traffic at unsignalized locations to assist pedestrians in crossing a street or highway at a marked crosswalk. It will signal traffic to stop (with a red light), but only when necessary for pedestrians to cross.
Here's how they work…
When there is no pedestrian or bicyclist waiting to cross, motorists will see that all three lights are dark. But, once a pedestrian pushes the button to cross, drivers will first see a flashing yellow light indicating they need to reduce speed and be prepared to stop.
Next, drivers will see a steady yellow light. Pedestrians are not walking across at this point, but drivers should be aware (see chart above for a look at what to watch for).
Then the red light is illuminated, which, of course, means STOP. Pedestrians will get the signal that it's safe to walk across the street.
As the pedestrian crosses the street, drivers will see alternating flashing red lights, indicating that they need to stop. During this period, motorists are required to stop or remain stopped until pedestrians have finished crossing the street, and then may proceed with caution (pedestrians will see a flashing countdown, which indicates how much time they have to cross).
And that's it. Once the flashing countdown is over, drivers will see that all lights are dark again and may continue to proceed through the crosswalk – as long as it's clear.
Construction on the PHB in Globe is set to start June 11. The $142,000 highway safety improvement program project, which is scheduled for completion in July, will include:
Construction of the new pedestrian hybrid beacon 
New pedestrian crosswalks 
Sidewalk, curb and gutter improvements 
Work hours will be 8 a.m.-5 p.m. Monday through Friday. The right lanes of east and westbound US 60 will be closed during work hours. There may be short delays while traffic is directed into one lane through the work zone.
Students attending Globe High School (adjacent to the new signal) will be given instructions on how to use the signal at the start of the new school year.
ADOT advises drivers to proceed through the work zones with caution, slow down, and be alert for construction equipment and personnel.