US 89: Archaeological site surveys required
US 89: Archaeological site surveys required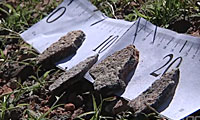 Earlier this week, it was announced that US 89T – the newly paved, shorter US 89 detour route – is now fully open without restrictions.
While we're excited about that update (as drivers in the area surely are, too), we also want to inform you about what's happening on US 89 as ADOT works to restore the landslide-damaged route…
As you can see in the video above, ADOT must complete environmental surveys of the entire project area prior to any sort of construction (we told you last month about the surveys for permits required under the Clean Water Act).
Right now, ADOT is evaluating the project area to see if there are any archaeologically significant sites in the right of way.
You may remember from this 2012 blog post that if these types of evaluations indicate a project may have an adverse effect on an historic property or site, efforts are made to avoid the area all together.
What are they looking for?
ADOT Historic Preservation Specialist David Zimmerman explains that his team is searching for anything that seems like people made it – pottery shards, stone materials and rock alignments are a few of the things they're seeking out.
"The National Historic Preservation Act of 1966 mandates that a federal agency has to take account of its effects on historic properties," says Zimmerman in the video above. "In other words, where could your project potentially damage historic properties, be they archaeological sites, historic buildings and, in the case of tribes particularly, what they call traditional cultural properties."