US 89 is open, repairs are complete
US 89 is open, repairs are complete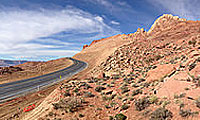 As you might know by now, the stretch of US 89 that had been closed following a 2013 landslide, is open to traffic...
ADOT reopened the road last week and the first vehicle to drive on it was a school bus from the Page Unified School District!
As you'll see in the video above, the project was a unique one for ADOT. It's also one that has had a big impact on community members, who have been using alternative routes, including the Temporary US 89 route that was opened in August 2013, to get to and from the Page and Lake Powell areas.
"The road is open," says Bitter Springs resident Eulinda in the video. "It means a lot to us who live here."
For a look at the project's progress over the past two years, you can revisit these blog posts and check out the many videos that have focused on the US 89 repair.