US 89: Restoring Mobility
US 89: Restoring Mobility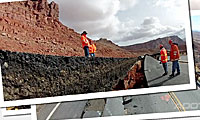 Things have come a long way in the two months since a landslide buckled part of US 89 south of Page…
No, the route hasn't been restored yet. But, as you can see in the video above, several steps already have been taken to return mobility to the area.
ADOT's Senior Deputy State Engineer Rob Samour details a three-pronged approach that has been established as crews work toward an ultimate fix.
"We looked at the immediate, intermediate and ultimate solutions," Samour says in the video. "The immediate solution actually took place within the first three weeks. We did start the geotechnical investigation and we were able to establish immediate access for emergency responders. The interim repair – the paving of N20 – is under the design phase right now. Hopefully we'll be paving shortly. The ultimate repair of US 89 will eventually get a recommendation from our geotechnical engineers on a solution."
So, while it's still premature to lay out any sort of a timeline, drivers can know that ADOT is working toward identifying the long-term options and that we certainly recognize how important US 89 is to the community of Page and the region.
ADOT Director John Halikowski asks for patience and explains the process.
"The mountain has moved and literally to fix that roadway we are going to have to move that mountain in some way or we're going to have to figure out a way to go around it," Halikowski says in the video. "These are not quick and easy decisions to make because they do involve a great deal of technical issues in the engineering and geology areas but we are working on this as diligently as we can."