US 89 south of Page repaired and open to traffic
US 89 south of Page repaired and open to traffic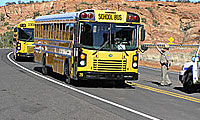 In case you missed the big news from last week…
At about 4:15 p.m. on Friday, March 27, US 89 south of Page was reopened to traffic for the first time following the 2013 landslide that caused major damage to the roadway, requiring a 23-mile closure between the junction of State Route 98 in Page and US 89A near Bitter Springs.
We'll have a video showing off the new stretch of road coming your way soon. But for now, we wanted to share these photos from opening day. School buses from the Page Unified School District were the first vehicles to pass through the newly rebuilt roadway!
For more than two years, community members – including school children – of Bitter Springs, Marble Canyon and Cedar Ridge have used alternate routes, including theTemporary US 89 route that was opened in August 2013, to and from the Page and Lake Powell areas following the US 89 landslide.