US 89: Surveys for permits required under Clean Water Act
US 89: Surveys for permits required under Clean Water Act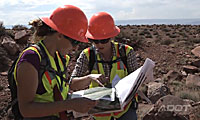 The long-term fix for US 89 will involve cutting back the mountain slope, building a gravity buttress wall for support and constructing the new road. But before crews can begin on all that, there's a lot that has to get done.
Environmental work is one of the first tasks at hand and, as you can see in the video above, ADOT is coordinating with a number of agencies to make sure this project will have as little impact as possible on any nearby waterways.
"We had ADOT, the Army Corps of Engineers, ADOT's consultants and the Navajo EPA water quality folks," says ADOT Water Quality Analyst Julia Manfredi in the video. "What we are looking for is areas that would be considered Waters of the U.S. by the U.S. Army Corps of Engineers, so what we have to do is identify where the Waters of the U.S. are, so that we can tell if this project is going to cause a discharge of dredge or fill material to those Waters of the U.S. and if it is going to, then we will have to permit that through the Army Corps of Engineers and also through the Navajo Environmental Protection Agency."
By the way, Waters of the United States basically refers to any interstate waters or wetlands (you can read a good, detailed definition on the Environmental Protection Agency's website).
In the case of the US 89 project, washes on the site that lead to the Colorado River are the focus.
401 and 404
The permits referred to in the video have to do with the Clean Water Act (specifically sections 401 and 404).
Section 404 of the Clean Water Act outlines the regulation of any dredged and fill material that gets discharged into the waters of the United States. The U.S. Army Corps of Engineers is responsible for 404 permitting.
Projects that require a 404 permit, must also apply for a 401 certification from a local jurisdiction (for US 89, it's the Navajo Environmental Protection Agency). While 404 permits deal more with hydrological connections to interstate waters, a 401 certification focuses on water quality and ensure that the project plan complies with local discharge rules.
More environmental work
As we stated earlier, there's a lot more to be done before construction can begin. So, stay tuned … we'll keep you posted on what's next, including archaeological and biological surveys of the site.