US 89 widening and bridge replacement progress near Cameron
US 89 widening and bridge replacement progress near Cameron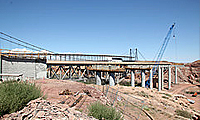 Earlier in the summer, we told you about the US 89 Cameron roadway improvements. Today, we wanted to bring you a quick update…
You'll remember that ADOT started working in March to expand US 89 from two lanes to four lanes through the community of Cameron within the Navajo Nation, about 50 miles north of Flagstaff.
Besides the road widening between SR 64 and the Little Colorado River (mileposts 464-467), major work for this project includes the removal and replacement of the existing Cameron Truss Bridge with two new bridges (one going north and one headed south) at that location. Additional improvements include constructing a roundabout at the existing intersection of US 89 and SR 64, new sidewalks, streetlights and four pedestrian/livestock underpasses.
Progress is being made
You can get a good look at the project's progress in the photo slideshow above. Right now, crews are working to complete the roundabout by October. As you can see, pedestrian crossings are being constructed and the bridge is really coming along – the first bridge's deck will be poured in the spring.
Construction traffic impacts
During this first phase of construction, all traffic will remain on its current alignment. For the second phase of work (anticipated in summer 2015), all traffic will be moved onto the newly constructed roadway.
Drivers should know that at least one travel lane in each direction will remain open during construction at all times. There may be roadway closures; however, they are not generally expected to exceed 15 minutes. Warning signs and flaggers for both north- and southbound traffic may be used at times.
ADOT advises motorists to be alert for construction equipment and personnel, and to proceed through the work zone with caution.
It's anticipated that this project will be complete by fall 2016. For more information, please check out the project Web page.