US 93 to Hoover Dam project earns top transportation award
US 93 to Hoover Dam project earns top transportation award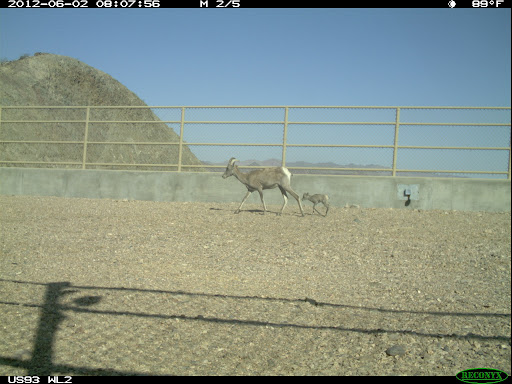 We just got some really exciting news about the US 93 project (you remember, it's the one that improved about 15 miles of roadway south of the Hoover Dam – we wrote about it here and here…
It was announced yesterday that the project won a regional award in the 2012 America's Transportation Awards competition – more specifically, the project was selected as the winner in the "Best Use of Innovation, Medium Project" category!
The America's Transportation Awards competition is sponsored by AASHTO, AAA and the U.S. Chamber of Commerce. It was created in 2008 to recognize outstanding transportation projects accomplished each year by state Departments of Transportation.
Besides "Best Use of Innovation" other categories include "Ahead of Schedule" and "Under Budget." All the categories are divided by size, depending on the cost of the project.
Arizona's award was announced during the annual Western Association of State Highway and Transportation Officials (WASHTO) conference. California, Nevada, Colorado, Washington and Texas also were recognized with awards.
Some background on the project
ADOT and its project team – including Federal Highway Administration, Arizona Game and Fish Department, National Park Service, Bureau of Land Management, AMEC Environment and Infrastructure, Bureau of Reclamation and FNF Construction – recognized a critical need for creative innovation during early design work preparing for the highway widening of the last segment from Interstate 40 in Kingman to the new Hoover Dam bypass bridge.
Collectively, they decided the best solution was to construct new overpasses that protected the safety of motorists and provided a passage for the desert bighorn sheep.
"ADOT and its partnering agencies worked together to achieve a common goal, which was to build a safe, modern four-lane highway for motorists, that also accounted for the unique challenges presented by the state's geography and wildlife that make that area their home," said ADOT Director John Halikowski.
In late 2010, ADOT completed construction of the $71.3 million project, which widened the existing roadway section from two lanes to four. Other significant highway improvements included a new trailhead, scenic overlooks and three wildlife crossings, which not only provide a crossing for the native desert bighorn sheep, but also protection for motorists.
ADOT has dedicated nearly half a billion dollars since 1998 to widen and improve US 93 from Wickenburg to the Hoover Dam. The long-term vision is to transform this route into a four-lane divided highway through its entire 200-mile stretch.