VIDEO: Nostalgic plate wins award and raises thousands for nonprofit
VIDEO: Nostalgic plate wins award and raises thousands for nonprofit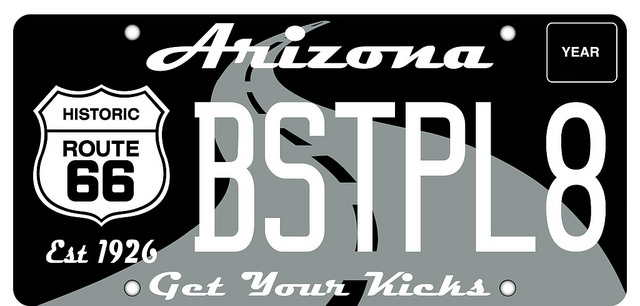 By Doug Nick / ADOT Communications
It's stylish… good-looking… useful… and very, very popular.
"It" is the Route 66 specialty license plate that's been available since December 2016 and has really found a place in the hearts – not to mention on the rear bumpers – of a lot of Arizona motorists.
Thousands of these plates have flown off the shelves, and the best part of that is more than $51,000 has been raised already for Route 66 preservation efforts.
In case you didn't know, Route 66 isn't a federal highway any more. It was officially de-commissioned in the 1980s when I-40 was completed. But many parts of the roadway are not only usable, they're vital to their communities. Flagstaff, Kingman, Holbrook and other cities and towns rely on Route 66 for more than nostalgia; plenty of thriving businesses have a Route 66 address.
But if it's nostalgia that puts air in your tires, Route 66 fills that role. So that specialty plate money, which will only continue to grow as the years go by and more plates are sold, comes in handy to make sure people are reminded about the countless lives that have been touched in some way by the "Mother Road."
Now, did we say the plate itself is stylish? Yes, we did, but you don't have to take our word for it. The plate just won a national award as "Best New License Plate" in the U.S.
That honor came courtesy of the Automobile License Plate Collectors Association. Not too long ago they dropped by to share the award. You can take a look at the video above.
If MVD was a roadside diner, this plate would be today's special. If we've whetted your appetite, you can order one here: azdot.gov/mvd.