VIDEO: See the I-17 wrong-way alert system in action
VIDEO: See the I-17 wrong-way alert system in action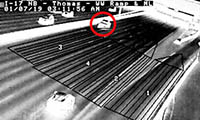 By Doug Nintzel / ADOT Communications
ADOT's wrong-way vehicle alert system, installed along 15 miles of I-17 in Phoenix, includes 90 thermal cameras that detect and track vehicles entering off-ramps or traveling on the freeway in the wrong direction.
The video above shows how this pilot system worked earlier this week when a pickup entered the freeway's northbound lanes at Camelback Road and proceeded south until state troopers, alerted by the system, stopped the vehicle. It's a chronological series of clips from thermal cameras as they detected the truck at the Camelback off-ramp and at Indian School, Thomas and McDowell roads.
Because of the instant alerts provided by thermal cameras, state troopers are able to zero in on a wrong-way vehicle's location faster than they can through 911 calls from other motorists. Meanwhile, ADOT can instantly warn other motorists through overhead message boards and have ramp meter lights in the area hold on red to alert those entering the freeway to the threat.
This $4 million system, the first of its kind in the nation, has to date recorded detections of more than 45 wrong-way vehicles within the project's boundaries. Nearly all of the drivers in these incidents have either turned around on an off-ramp or drove on the frontage road without entering the mainline lanes of I-17.