Watch us make a new bridge, and maybe a future bridge builder
Watch us make a new bridge, and maybe a future bridge builder
By Garin Groff / ADOT Communications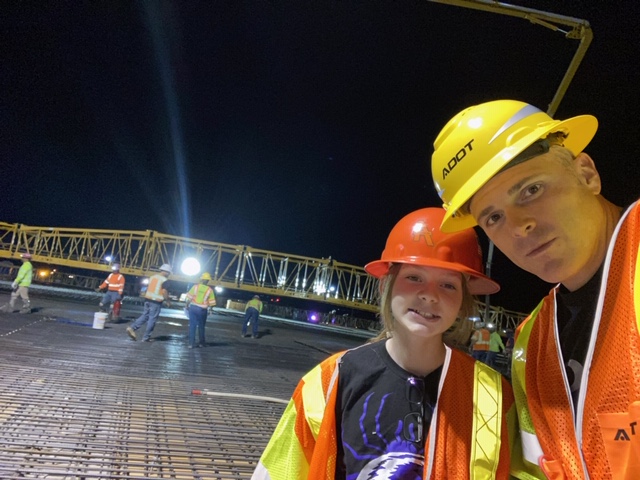 If you drove by Interstate 10 in far east Tucson on a recent Monday night, you couldn't have overlooked a massive boom pumping concrete onto the new Houghton Road overpass.
But we wanted to share something you couldn't have seen while zipping through the area: A little father-daughter bonding at what was dad's office that night.
Meet Jeremy Moore, the Assistant District Engineer for ADOT's Southcentral District, and his 11-year-old daughter, Kailey (both featured in the video and photo on this page!). 
Moore oversees the interchange reconstruction project and figured this busy work site was a perfect place for his daughter, who is eyeing a career in some kind of engineering or architecture. Kailey loves structures, so what could be better than watching part of a 12-hour, overnight operation to pour 1,000 cubic yards of concrete that now form the bridge's future driving surface.
Kailey is a sixth grader at St. Joseph Catholic School in Tucson who has a passion for Taekwondo – she's a second-degree black belt – and loves engineering, technology, science and math.
Thankfully for Kailey, there was a lot of math to soak in!
Her father shares a few interesting numbers on all that concrete. It's:
1,626 tons
803 cubic yards
held together with 123 tons of reinforcing steel
forming a structure that's 245 feet long, 125 feet wide and 8.5 inches thick
If Kailey ever decides to build something like a bridge, she got the perfect lesson under the stars that Monday night.
As to the project and what it means to drivers, this concrete pour represents a milestone. The entire bridge deck was poured in just one night, which means crews can plan for shifting traffic onto that new structure later this summer. That in turn allows us to demolish the old two-lane Houghton Road bridge and complete the ramps on the east side of the interchange.
And a few more numbers to finish with: The $24.4 million project is expected to be complete in about 7 months – at the end of 2021. Expect some nighttime and weekend lane restrictions, which could lead to delays of about 15 minutes.