Welcome to the new ADOT Blog
Welcome to the new ADOT Blog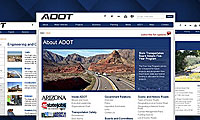 If you're reading this post it means you've found the ADOT Blog's new home…
So, what do you think?
We really like the new space and hope you'll take some time to look around and see how the entire ADOT website has been redesigned with you in mind.
That's right, after receiving a lot of feedback and putting in many (many) hours, ADOT's Web Team has created a new site that's organized to help you discover exactly what you need.
Whether you're looking for MVD locations, the latest on a project, information on doing business with ADOT or the latest news, you'll find it all on the new site – it's just been arranged a little differently in an effort to make your experience better.
After you've had a while to look around and take it all in, let us know what you think. You can leave a comment here on the blog, or provide your thoughts by clicking on the feedback tab on the left side of the site.