Westbound HOV lanes on Loop 101 aren't open yet, but they will be soon
Westbound HOV lanes on Loop 101 aren't open yet, but they will be soon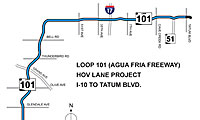 If you live and drive the Loop 101 in the West and North Valley you probably noticed the first stretch of HOV lanes on the eastbound Loop 101 recently opened. These new lanes already have helped to ease congestion in the North Valley, especially during the morning commute.
You may have also noticed that the westbound HOV lanes appear to be done as well, but are not opened. ADOT has not decided to taunt you – these lanes aren't open yet for a reason.
A little background on the project...
The Loop 101 HOV lane project will add 30 miles of HOV lanes along Loop 101 from I-10 to SR 51.
ADOT already has added HOV lanes to Loop 101 in the East Valley between SR 51 and Loop 202  during the past three years. The completion of final 30 miles in the West Valley will give drivers more than 60 miles of uninterrupted HOV access!
Why the westbound lanes aren't open yet...
When the first stretch of HOV lanes on the current project was opened it was because the new HOV lanes did not come to an end, but rather connected to the existing lanes east of SR 51. This enabled ADOT to open the first few miles of the new HOV lanes on the eastbound Loop 101.
So, although it appears as though the westbound Loop 101 HOV lanes between SR 51 and 7th Avenue (as well as other areas along the westbound Loop 101) will soon be ready to open, ADOT will not open these lanes until the rest of the project is completed.
We do not want to open a smaller stretch of HOV lanes that will simply come to an end and cause traffic to merge unnecessarily, just for the sake of opening lanes. We would rather hold off and open the lanes when they are completed so that traffic is not forced to merge where the smaller sections of HOV lanes end.
However, we have opened auxiliary lanes on both the east and westbound Loop 101 between Cave Creek Road and SR 51. These lanes help to improve the flow of traffic along this very busy section of the Loop 101 where traffic is merging either onto or from SR 51. Since opening, there is a noticeable difference along this section of the Loop 101.
The good news is this project is more than 80 percent complete. By November, all 30 miles of new HOV lanes will be open along the Loop 101 allowing motorists to enjoy a much easier ride in both the West and North Valley!