What's blowing in the wind? Hopefully it's change
What's blowing in the wind? Hopefully it's change
By Doug Nick / ADOT Communications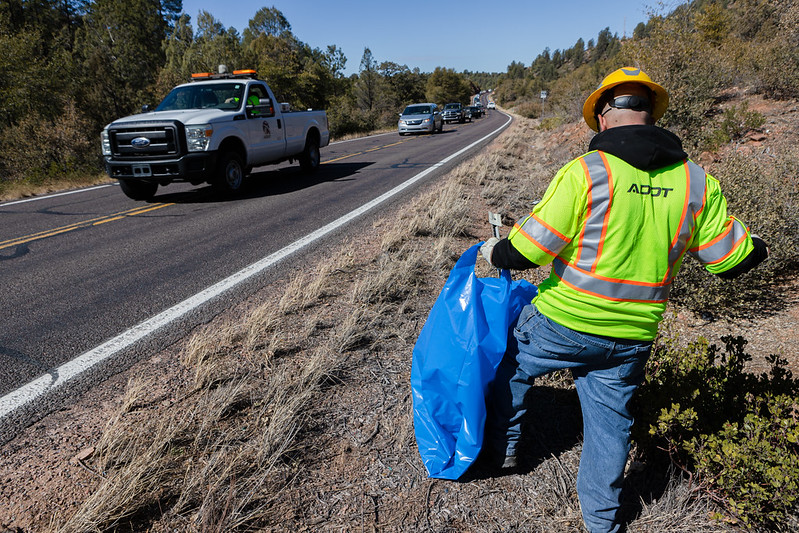 The wind picks up from time to time here at the ol' ADOT Ranch, and wouldn't you know it, it keeps blowing leaves in the pool. Boy, is that annoying. 
OK, we really don't have a pool at ADOT Ranch, and the stuff our crew members have seen blowing in the wind lately is a lot more annoying than leaves.
That would be litter. 
And tempting as it is to say that we see too much of it (and we do), the truth is any amount is too much.
We're not the only ones who've noticed. There's been a definite increase in complaints about litter on or near ADOT highways all over Arizona. 
But it was no surprise. You see, ADOT crews live and work here too, and every one of us is as unhappy about the trash and junk by the road as everyone else. Our home is too messy. 
ADOT maintenance crews, volunteers and contractors have been working very hard to do all they can. In fact, in the Phoenix metro area, the amount of litter picked up in 2020 versus 2019 increased by about 100 tons. Imagine that. And there's more where that came from.
It's a never-ending problem. But you can help.
First, think about the sign you see in every employee break room in the world: "Your mom doesn't work here, so clean up after yourself!"
Good advice! The best way to help reduce litter is, well, to NOT LITTER! Don't toss that burger wrapper, empty water bottle or cigar butt out the window. And not to be too gross in a family blog, but let's just say loaded diapers and other such things don't belong by the road – ever. 
The second thing many of us can do is secure your load. A lot of litter is stuff that's in the back of a truck and just flies out. Not only is that nasty, but it's a safety hazard.
Finally, you can volunteer for the Adopt a Highway program. In 2020, the pandemic caused a downturn in our number of volunteers just as it temporarily sidelined the prison inmate cleanup crews, but cleaning up litter is always done with distancing and other health and safety protocols.
You can learn more about Adopt a Highway on our website. And you can report litterbugs by calling 511 or reporting online at litter.az.gov. 
If you're still not convinced, take a look at some of the images in the Flickr album above. They were taken in one of the most beautiful areas of Arizona – the Rim Country near Payson. 
We can only guess who did all of this, but it was a cooperative effort of people carelessly tossing garbage into the open. 
What should be blowing in the wind? Bob Dylan would say "the answer" and that's great, but we'd love to see just leaves whirling around, not the stuff that belongs in a trash can.