Work continues on I-17/Cordes Junction interchange project
Work continues on I-17/Cordes Junction interchange project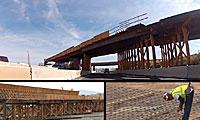 Here we are, past the halfway point on the I-17/Cordes Junction interchange project and it's clear that work is really moving along!
At least, it's clear if you drive the area frequently, or if you watched this video back in February. Crews have been busy since then, as you can see above.
Project details
When construction is complete (by next summer), drivers will have a new, modern interchange designed to handle the area's growing needs.
Some of the project's new features include:
New bridges on SR 69
The removal of the outdated on- and off-ramps
A new I-17 interchange constructed north of the existing interchange
A new bridge built over I-17 to connect with SR 69 (note: the existing bridge is being rehabbed) 
The construction of a new Arcosanti Road along with the realignment of Copper Star Road and Stagecoach Trail 
Reconstruction of the I-17 bridges over Big Bug Creek 
"It will be nice. When this project is complete there will be more access in to and out of the communities and if you want to head west toward Prescott and the cities in that direction you'll be able to do that with a little more ease," says Resident Engineer Sam Patton in the video above.
Traffic Alerts
Because I-17 is such a major corridor, ADOT has taken a lot into consideration when determining the construction phasing.
There are a few restrictions in place this week (weather permitting) as crews work on new bridges …
Tonight (Aug. 28), drivers on southbound I-17 will be shifted onto the off and on ramps at Arcosanti bridge from 7 p.m. to 6 a.m. to allow crews to work on the new bridge over I-17.
On Thursday (Aug. 30), drivers can expect:
Intermittent full closures of I-17 are expected for up to 15 minutes at a time between 11 p.m. and 3 a.m. for bridge work over I-17.
The on-ramp from State Route 69 to northbound I-17 will be closed from 7 p.m. to 6 a.m. Traffic will be detoured three miles south on I-17 to Bloody Basin Road (Exit 259) and then directed to use I-17 northbound.
Traffic will be narrowed to one lane in each direction and will be diverted to the southbound lanes through the work zone from 7 p.m. to 6 a.m. as crews work on the flyover bridge above I-17.
The work zone will be clearly marked by temporary barricades and signage. ADOT advises drivers to allow additional time to reach their destinations and to proceed through the work zone with caution, comply with the reduced speed limit and be alert for construction equipment and personnel.