Work on N20 detour to start soon
Work on N20 detour to start soon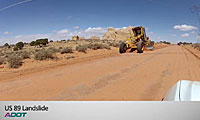 Drivers who have been impacted by the closure on US 89 might be happy to know that work is beginning on Navajo Route 20…
That means crews soon will start paving the mostly dirt road so it can (in a few months) serve as an interim detour route until repairs are finished on US 89.
Once complete, the N20 detour will reduce travel time for motorists heading to and from Page. And, yes, it will be able to accommodate the anticipated traffic volumes, including commercial truck traffic.
However, we're not there yet, and we're asking motorists to avoid using N20 until the upgrades are finished (likely by later this summer). Because, not only is it still a mostly dirt road, but very soon it will become an active work zone and delays are expected to take up to an hour
After the reconstruction of US89 is finished, N20 (which will be dubbed Temporary US 89, or US 89T, once it's paved) will be relinquished to the Navajo Nation.
There is no timetable yet for reopening the portion of US 89 damaged by a February landslide, but we'll definitely keep you posted. ADOT is committed to restoring this important travel route as soon as safely as possible. In the meantime, drivers can look forward to the shorter and more direct N20 detour.