Work on US 89 roundabout wraps up in Page
Work on US 89 roundabout wraps up in Page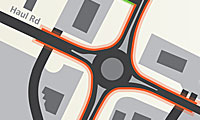 We have good news for drivers up north – work on the new roundabout at US 89 and Haul Road in Page is complete!
This project not only included construction of the roundabout, but it added a new raised median, too. Crews also installed a new right-turn bay in the southeast section of the intersection, new sidewalks, ramps, signs and lighting. Roadway drainage improvements were also part of the work, which started in early summer.
About that roundabout
If you drive the new roundabout, one thing you might notice is its size – it measures about 200 feet in diameter.
The large roundabout design was chosen for the intersection to help accommodate a variety of vehicles that frequently travel in the area, including oversized houseboats.
A traditional signalized intersection was investigated as a possible option; however traditional traffic signals would hang too low, limiting the size and height of the vehicles that could travel through the intersection.
By building a roundabout, a variety of vehicles can be accommodated.
More on roundabouts
Modern roundabouts are designed to reduce crashes and improve traffic flow. You can learn more about why we build them in this blog post from last month.
And, if you need a refresher on how to drive a roundabout, check out this video on maneuvering modern roundabouts.
If you're still looking for more, you can visit the roundabout page on our website for all the details, including information on yielding to pedestrians, choosing the proper lane and what to do if you encounter an emergency vehicle in a roundabout.