Wrong-way detection system receives national award
Wrong-way detection system receives national award
By David Rookhuyzen / ADOT Communications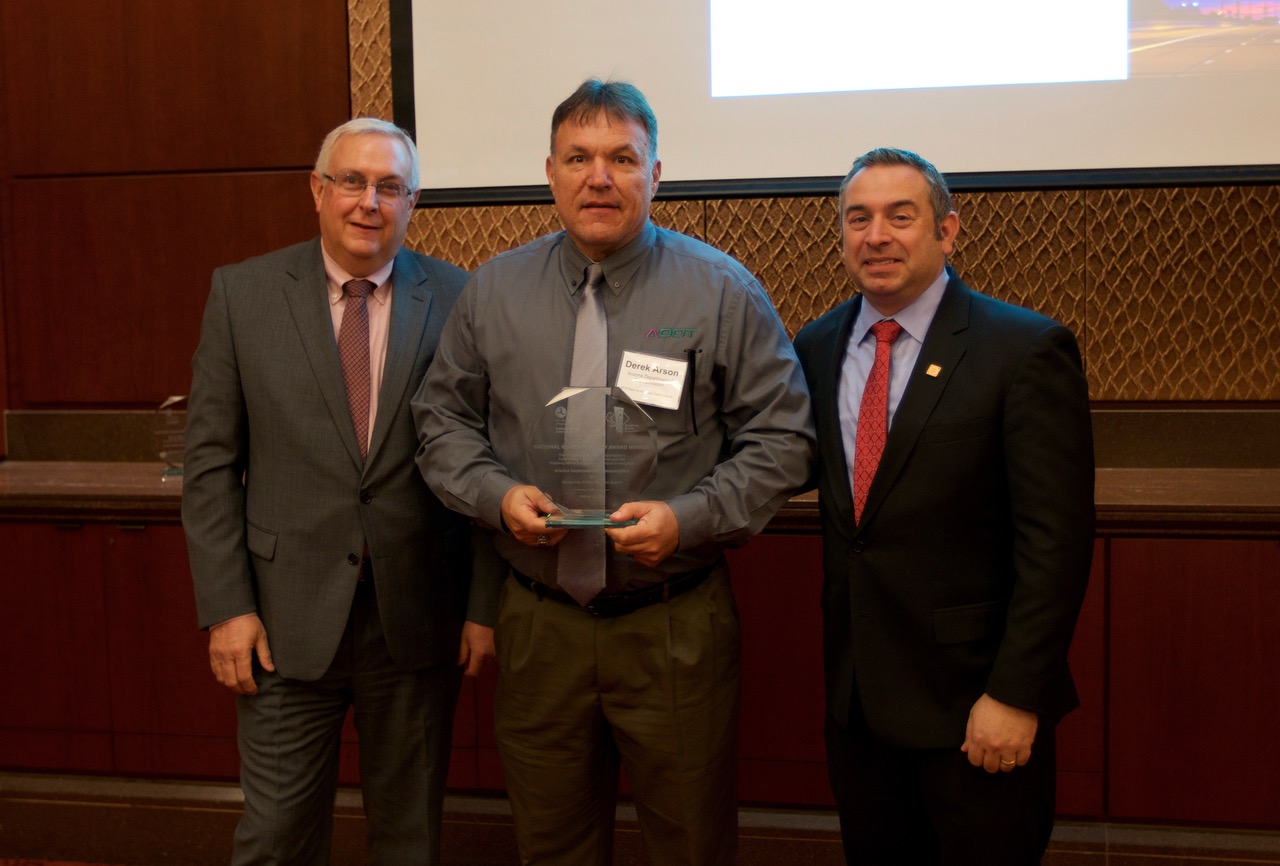 They say virtue is its own award. We would say that helping everyone get home safely after a hard day's work, a weekend escape or a night out is also its own award.
But occasionally we are recognized for doing just that.
Such is the case for our first-in-the-nation wrong-way vehicle alert system, which recently was named a winner of a 2019 National Roadway Safety Award. The Federal Highway Administration and Roadway Safety Foundation give the award in recognition of roadway safety achievements that move the country toward having zero driving fatalities or serious injuries on the nation's roads. The wrong-way vehicle alert system joins six other projects from across the country that received this recognition.
Accepting the award in the picture at the right is Derek Arnson from ADOT's Traffic Management Group. With him are, at left, Tom Everett, executive director of the Federal Highway Administration, and Gregory Cohen, executive director of the Roadway Safety Foundation. 
The $4 million wrong-way vehicle alert system installed along 15 miles of I-17 uses thermal cameras to detect and track wrong-way vehicles. It also immediately alerts ADOT and the Arizona Department of Public Safety. This can save state troopers valuable time in responding to incidents rather than waiting for 911 calls from other motorists, while also allowing ADOT to quickly alert other drivers via overhead message boards.
Since ADOT installed it in early 2018, the I-17 system has detected more than 90 wrong-way drivers, nearly all of whom turned around on off-ramps. 
The system's 90 thermal cameras are positioned to detect wrong-way vehicles entering off-ramps or traveling along I-17. A detection also triggers an internally illuminated wrong-way sign with flashing red lights aimed at getting the attention of wrong-way drivers.
ADOT is completing an evaluation of the I-17 system to determine which elements should be used on other freeways.
For more information on the award, please visit RoadwaySafety.org