You pour the coffee, we'll pour the concrete (for a new bridge)
You pour the coffee, we'll pour the concrete (for a new bridge)
By Doug Nintzel / ADOT Communications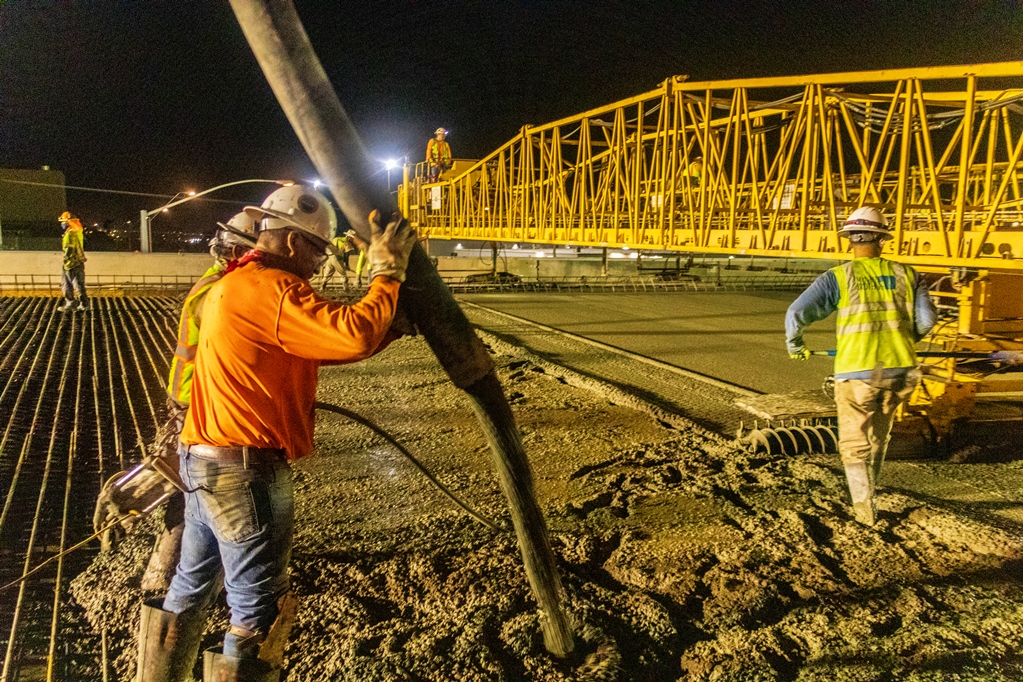 In another chapter of "while you were sleeping," we tell the story of the overnight work that recently went into creating the concrete deck for the northbound side of the Interstate 17 bridge that's under construction above Central Avenue in Phoenix.
For ADOT, the I-17 bridge over Central Avenue had reached the end of its service life. Makes sense, since it originally opened to traffic back in 1962.  Over the past year the old bridge has been demolished in phases and a new bridge has taken shape south of the downtown area.
One of the last major moves was the concrete pour for the new northbound bridge deck. It takes a number of loads of concrete shipped via trucks. And as you can see in this ADOT I-17/Central Ave Bridge Video, an extended boom pump system delivered the concrete from street level on Central Avenue up to the bridge deck. It reminds me of a series of fire hoses that pump concrete instead of water.
Crew members then poured the concrete into the network of steel rebar that provides strength for the bridge deck. Specialized equipment, including a Bidwell pavement roller, is then used to spread and smooth the concrete pavement that drivers will be traveling on within a matter of months.
For this particular operation, 545 cubic yards of concrete were poured for this span in just a matter of hours.
So let's review the project's advances since work started in May 2020. Project phases included demolishing and reconstructing the southbound side of the steel-girder bridge. I-17 traffic, which had temporarily been sharing the old northbound side of the bridge, was then shifted to the new southbound span earlier this year. In turn, that allowed the same type of demolition and reconstruction work to take place for the new northbound side of the bridge.
Now it's on to the last stages of work to finish the entire bridge so I-17 traffic can once again travel through the area with three lanes in each direction. The new structure will be wider to accommodate regional plans for additional lanes along I-17 when future funding is available. Increased clearance below along Central Avenue will provide more room for commercial trucks as well as Valley Metro's future South Central Avenue light-rail line.
The $13.5 million project has been funded in part by Proposition 400, a dedicated sales tax approved by Maricopa County voters in 2004.