Your input is needed for the long-range transportation plan: A roadmap for ADOT's future
Your input is needed for the long-range transportation plan: A roadmap for ADOT's future
By John Halikowski / ADOT Director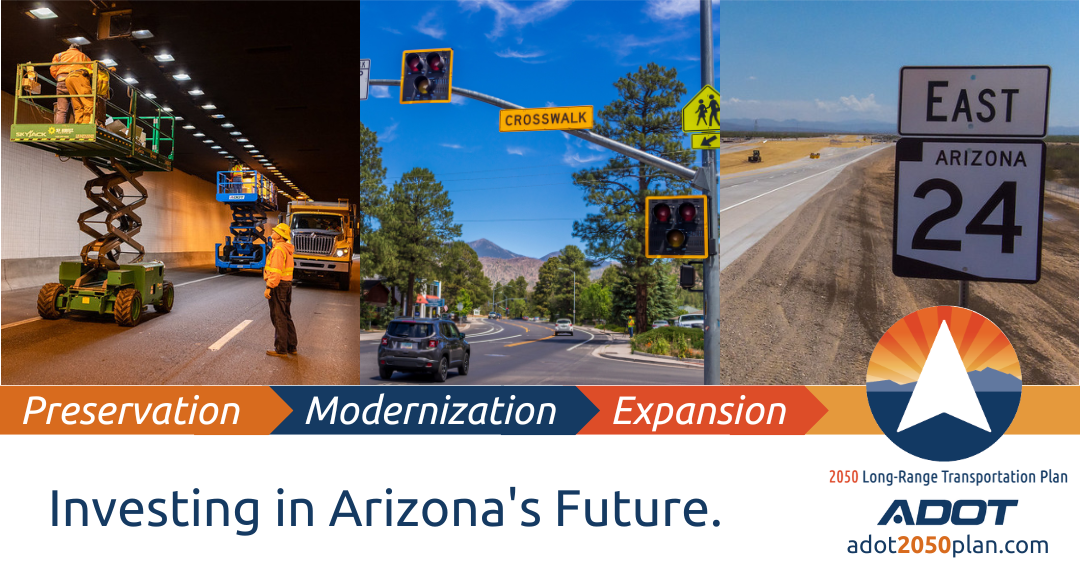 When you began thinking of your lifetime goals, I imagine you thought about a career, family and then retirement. You developed a roadmap to get you there. Throughout your life, you probably have faced challenges along the way and made updates to your plan to keep you on track.
In transportation, we have a similar roadmap. It's called the Long-Range Transportation Plan. It is designed to identify the transportation needs of the state, taking into account growth and available funding from state and federal resources for the next 25 years. The plan identifies transportation needs and major investment categories for transportation spending, along with projected funding gaps to meet those needs and isn't project specific. The plan must be updated every five years. 
We also make sure to connect the long-range transportation plan with other ADOT-led studies. The statewide freight plan and truck parking study are just two examples of how these studies collaboratively enhance the transportation system, quality of life and are connected to our long-range transportation plan. 
Our roadmap would not be complete if we didn't hear from our customers, the users of our transportation system. It is important that we receive feedback from you and how you would like to see ADOT allocate future resources across three major investment types: maintenance/rehabilitation, modernization and expansion.
We have launched the 2050 Long Range Transportation Plan website. I would encourage you to share your thoughts on how ADOT should plan for the future and to encourage others to participate in the survey. The survey will be open through Dec. 21. We expect to finalize our long-range transportation plan in May 2023. 
ADOT has received a recent boost in funding from our State Legislature and the Infrastructure Investment and Jobs Act (IIJA), both short-term funding sources. While we are very thankful for this extra funding, it doesn't take into account the long-term revenue sources needed to meet the transportation needs of the state. Our current Long Range Transportation Plan identified a $30.5 billion gap in needs versus available funding. Costs for transportation improvements and maintenance continue to increase rapidly.
Maintaining pavement across the state remains a challenge for ADOT due to funding. With inflation and an increase in fuel efficiency, the purchasing power of the main revenue source to pay for transportation, i.e. fuel taxes, is diminishing, while the needs of the state highway system continue to increase - especially as new lane miles are added. 
Our roadmap is the long-range transportation plan. We identify what the state's needs are and prioritize accordingly. We face challenges, which requires us to update and make adjustments along the way to keep us on track. We seek input from our customers, which helps us form our vision of "Moving Arizona. Becoming the safest, most reliable transportation system in the nation." 
There is another important reason why we develop a long-range transportation plan. We want to improve the quality of life for future generations with a transportation system that keeps people connected and gets them safely home.