Your MVD-related questions (and answers)
Your MVD-related questions (and answers)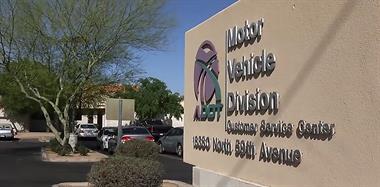 A lot of interesting questions get sent our way…
Between Facebook, Twitter, the commenting feature here on the blog and this "Contact ADOT" form, there are many ways for you to submit your inquiries online.
But we're guessing that most of our readers don't scroll through all of our feeds, which means you're not seeing those great questions (or our answers). That's why we thought we'd share a few of the Q&As right here, right now.
Today, we're just focusing on some MVD-related questions that we've received recently. Hopefully, you'll find these questions and answers to be useful!
I am turning 65 and need to renew my license. I wear glasses that are a few years old, so I'm not 20/20. How good does my vision need to be for the license renewal?
If you have doubts about passing the vision test, please arrange for a professional vision examination. An applicant for a renewal driver license who fails the vision test is not eligible to renew and their current driver license privilege will be suspended. The applicant then will have to reapply for a new driver license – including passing the vision test.
The reapplication process may include bringing in a signed document from a vision specialist stating the applicant's vision is within mandatory standards for an Arizona driver license.
How long can you have a permit when you're 18?
An Instruction Permit for an applicant of any age is valid for 12 months. It is mandatory for driver license applicants under age 18 to hold an Instruction Permit for a minimum of six months. At age 18, you will not be required to comply with the mandatory six-month holding period, but to learn to drive lawfully, you will need to take the written test and obtain an Instruction Permit.
Once you have obtained an Instruction Permit and have practiced driving and believe you are ready for the road/skills test, you can visit an MVD office (remember: if you are under age 18, you must have an Instruction Permit for at least six-months before you can take the road/skills test).
Here are the requirements for a road/skills test:
A currently registered and insured vehicle – must show proof-of-insurance
A licensed driver must accompany the permitee to the test
If you fail either the written or road/skills test, you are required to wait seven days before you may take the test again. Hope this helps answer your question! Additional details can be found on our MVD website.
I am considering buying a motorcycle. I have an Arizona Operator's License now and need to take the written test for the M endorsement and pass the driving test. How do I buy the motorcycle and legally drive it to the testing site?
If anyone wants to be on the road lawfully while learning to ride a motorcycle, they will need a motorcycle instruction permit.
When applying for your first Arizona motorcycle instruction permit, you must pass a written motorcycle test based on the information contained in the motorcycle operator manual. You will not need to bring a motorcycle to the testing site to apply for the written motorcycle instruction permit exam.
You can find more details in the Arizona motorcycle operator manual.
Where do I go to take the online practice test?
You can find the online practice tests on our MVD website. Good luck!