ADOT/USGS Partnership
ADOT/USGS Partnership
Partnership 2022 Focus
In addition to the original 2014 goals, foremost, the partnership has been evolved to advance evidence-driven scientific decision making and contribute to further blending risk, science, technology, and engineering to improve the understanding of water-related data collection overall, natural hazard and weather-related risks to ADOT's transportation system and the built environment, and contribute to overall Agency continuous improvement goals. To date the partnership has been part of over sixty (60) small and major efforts.
Secondarily, ADOT's Resilience Program and this partnership are also seamlessly linked.  Especially, as it pertains to two of the eight stressors that pose the highest threats to ADOT's transportation system;
Intense Precipitation
System Flooding
These realities spurred the USGS Arizona Water Science Center to begin advancing water data collection and new technology adoption to help better understand dynamic hydrologic conditions. This partnership is now a national USGS leadership recognized data collection and modeling process that will now be tested and rolled out to all relevant USGS offices across the country over the next five years.
Sustainable Infrastructure Solutions
Sustainable Infrastructure Award
Original 2014 Partnership Goals
Incorporate U.S. Geological Survey (USGS) Arizona Water Science real-time (direct) storm monitoring and data collection, post-storm (indirect) event monitoring and data collection, next generation StreamStats (v4) and surface water flow data collection capabilities. This effort would directly and meaningfully contribute to expediting and improving ADOT's efforts in planning and responding to incidents of flood, over-topping, system hotspots, hydraulic-related failure, and extreme weather events in connection with:
NEPA jurisdictional and wetland delineation expediting and streamlining
Highway stormwater runoff management
Evaluating scour potential and countermeasure development at water crossings
Drainage structure siting, design and construction
Response to Federal extreme weather regulatory activities.
Partnership Video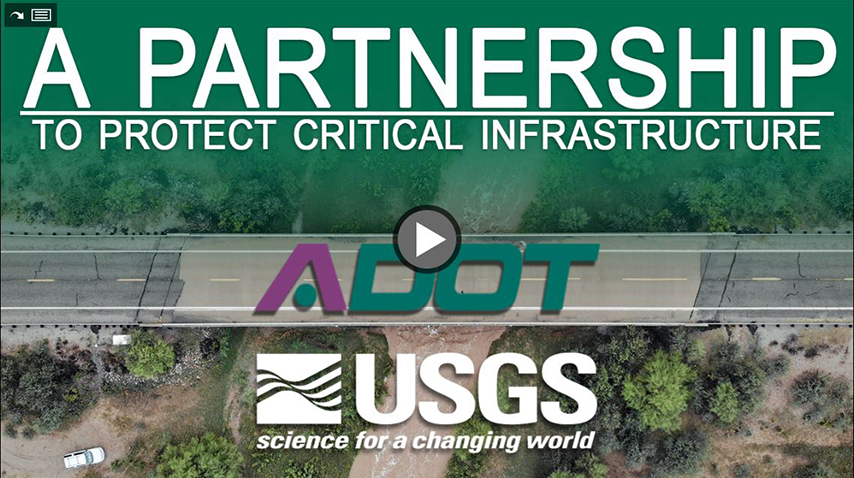 Projects
Pilot Project - Laguna Creek at U.S. Highway 160, Arizona
The Laguna Creek Bridge Scour Remediation was a scour remediation project on the existing Laguna Creek Bridge located in ADOT's Northeast District. This project served as the first of six pilot efforts to address different types of water exposure on ADOT's highway system. The project tested a suite of USGS next generation technologies as they relate to transportation infrastructure – LiDAR, UAS (drone), Rapid Deployment Streamgage, Non-Contact Velocity Sensors, Video Camera and Particle Tracking Data Collection, 3-D Land Surface Models, Scour Chains, Direct/Indirect Measurement of Discharge, Velocity Vector Analysis, Erosion Change Mapping, Flow Sensors, UAS/UAV Surveying, Terrestrial LiDAR, 2-D/3-D Visualization Tools.
Visit the Tools Page to learn more about these technologies.
---
San Pedro River at St. David and Gila River at Florence
The goal of these projects is to collect and publish stage, discharge, velocity, water-surface profile, and land surface data to help develop a better understanding of the hydrologic and hydraulic conditions at two critical infrastructure locations; the State Route 80 bridge over the San Pedro River near St. David and at the State Route 79 bridge over the Gila River at Florence. This data will be collected and published over a period of about 3 years. The data will be used by ADOT to monitor the magnitude of floods, refine hydrologic models, and better understand how channel conditions change over time. Long-term hydrologic monitoring is valuable but not often available in the transportation sector. Additional data, such as direct and indirect measurements of peak discharge, 3D land surface models, and StreamStats information, will be used to inform project development and maintenance decisions at other locations around Arizona and will be refined by long-term data collection at these two sites. This program will provide critical data necessary to efficiently manage infrastructure and ensure public safety while contributing to overall knowledge of hydraulic and infrastructure interactions in a desert environment.