Sustainable Pavement Program
Sustainable Pavement Program
Overall, ADOT views their Pavement Management System as contributing to sustainability by optimizing pavement life cycles to reduce costs, the environmental impacts of construction, and material usage. ADOT's pavement team always considers sustainable pavements for its projects. The sustainable pavements are used when they are the best option available.  Pavement design life is a term that engineers use when they're planning to build a new road or maintain an existing roadway. They'll also use a number of years to go along with it, for example: 10-year pavement design life, 20-year pavement design life, etc. The phrase should not be taken to imply that a road is only being built to survive for a set number of years. What it does represent is the road's age at which some preventative maintenance or reconstruction will be considered so the road can continue to be durable and useful for the traffic it's serving. A lot is taken into consideration, soil condition, location, expected traffic levels and the area's climate. All those conditions play a role in how the pavement is designed.
2017 Arizona DOT Black & Green Sustainable Pavement Systems Program
ADOT's pavement management contributes to sustainability by enhancing roadway safety, optimizing pavement life cycles to reduce costs, while considering the environmental impacts of construction and material usage.
ADOT's Quiet Pavement Program
ADOT has completed its Quiet pavement program. The Federal Highway Administration has issued an updated memo to clarify its position on use of pavement as a noise abatement measure. The memo reiterates that regulations at 23 CFR 772 do not allow for the use of pavement type or surface texture as a noise abatement measure. FHWA will continue to consider pavements as contribution to the noise abatement measure if evaluated for the pavement's full life cycle. The FHWA will also allow new Quiet Pavement Pilot Projects that evaluate the pavement for its full life cycle, to avoid premature overlay of the pavement solely to restore the noise reduction. FHWA encourages highway agencies to continue researching their pavement types and surface textures and to construct those pavement in accordance with their agency's requirements. The FHWA will continue to investigate data used for its Traffic Noise Model and "average pavement type" for noise analyses on projects.
Every Day Counts Four (EDC-4) Pavement Preservation
Whether a highway pavement is constructed using asphalt, concrete, or a composite system, traffic loads and environmental elements will contribute to its deterioration over time. Pavement preservation treatments can slow this structural decline. When the right treatment is applied at the right time with quality materials and construction, these practices offer a proven, cost-effective approach to extending the overall service life of pavements and achieving smoother, safer roads with fewer costly repairs. ADOT is implementing an EDC-4 Pavement initiative in order to move preservation concepts, and the innovative thinking of ADOT pavement staff, significantly forward. The focus today in transportation is on sustaining infrastructure through "whole-life" investments and quantifying the risks. Pavement preservation has a key role in managing pavements in these whole-life programs. As part of ADOT's ongoing transportation asset management reporting, pavement preservation activities, and sustainable transportation programs, evaluating the benefits and costs related to the lifecycle analysis for pavements is crucial.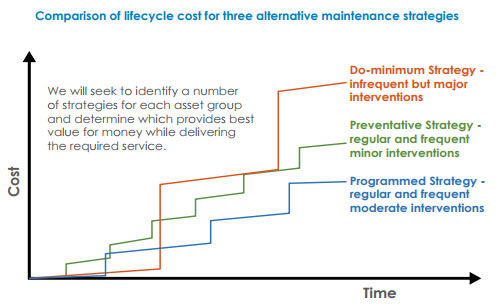 Methodologies
Life-Cycle Assessment (LCA)
LCA is a technique that can be used for analyzing and quantifying the environmental impacts of a product, system, or process. LCA provides a comprehensive approach to evaluating the total environmental burden of a product or process by examining all of the inputs and outputs over the life cycle, from raw material production to end of life. This systematic approach identifies where the most relevant impacts occur and where the most significant improvements can be made while identifying potential trade-offs. LCA is a field of science that is still evolving, yet it has demonstrated real-world value over the last two decades by helping manufacturers, companies, governments and other groups identify what is environmentally important to them and then to define needed actions to improve their environmental impacts.  The processes and rules for conducting an LCA are generally defined by the International Organization for Standardization (ISO) in its 14040 family of standards (ISO 2006). These standards are quite broad; thus, more precise guidance is needed for their application to a specific material or process. Such guidance is usually developed by the relevant industries and other stakeholders. ADOT is developing sustainable pavement systems LCA guidance and assisting FHWA in defining these new concepts in traditional road building environments.
Common Uses of Pavement LCA
Selection of a material or pavement structural design in conjunction with LCCA
Evaluation of the impacts of potential changes in a policy or specification
Development of LCA tools for screening or detailed LCA for the scoping or design of a project
Evaluation of scenarios for network-level decisions and strategies for preservation, maintenance and rehabilitation
Development of material EPDs for pavement applications
Life-Cycle Cost Analysis (LCCA)
LCCA is an analysis technique that uses economic analysis to evaluate the total cost of an investment option in constant dollars over an analysis period. As such, it is principally used to address the economic component of sustainability. LCCA does not directly address societal or environmental issues (e.g., clean air and water, habitat impacts, establishment of livable community conditions) unless such issues can be monetized. ADOT is developing sustainable pavement systems LCCA guidance and assisting FHWA in updating LCCA methodology as it relates to sustainable transportation activities.
Program Updates
Videos