New Web page offers the latest US 89 details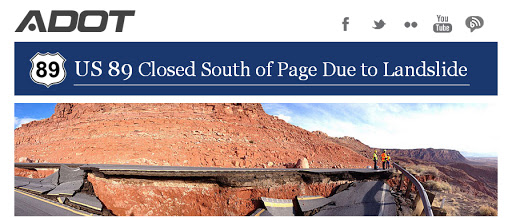 Wow … we've certainly received a big response to all of the videos, Tweets, blog posts and news releases related to the closure of US 89 south of Page.
A huge thank-you goes out to everyone who has helped us spread the word!
Just to give you an idea of how far the message has gone, listen to these stats: US 89 photos from the ADOT Facebook page have been shared at least 7,100 times, so far, and this video has been watched more than 32,000 times (don't even get us started with all of the comments, likes and retweets)!
While we'll continue to use social and traditional media to give updates on the situation (and we hope you keep on sharing the information with your family and friends), we do want you to know there's an additional resource now available to you when you're looking for US 89 closure details.
ADOT's new webpage, azdot.gov/US89, is a one-stop site that's dedicated to keeping the public informed about the latest news and alternate routes. Visit the page and you'll not only find current and past news releases, but you can check out videos, photos, detailed detour maps and blog posts.
If websites aren't your thing, you can also get information on the closure by calling the ADOT Project Hotline, toll-free, at 855.712.8530 or by sending an email to [email protected].
ADOT recognizes how critical US 89 is to the region and our engineers are very busy gauging the damage and considering what steps to take next. It's too early to know what the fix might be, or when it will be ready for drivers, but we will work hard to keep you informed and ensure that all motorists are able to safely travel to all destinations.