Motor-vehicle crash fatalities rose in 2015, preliminary data show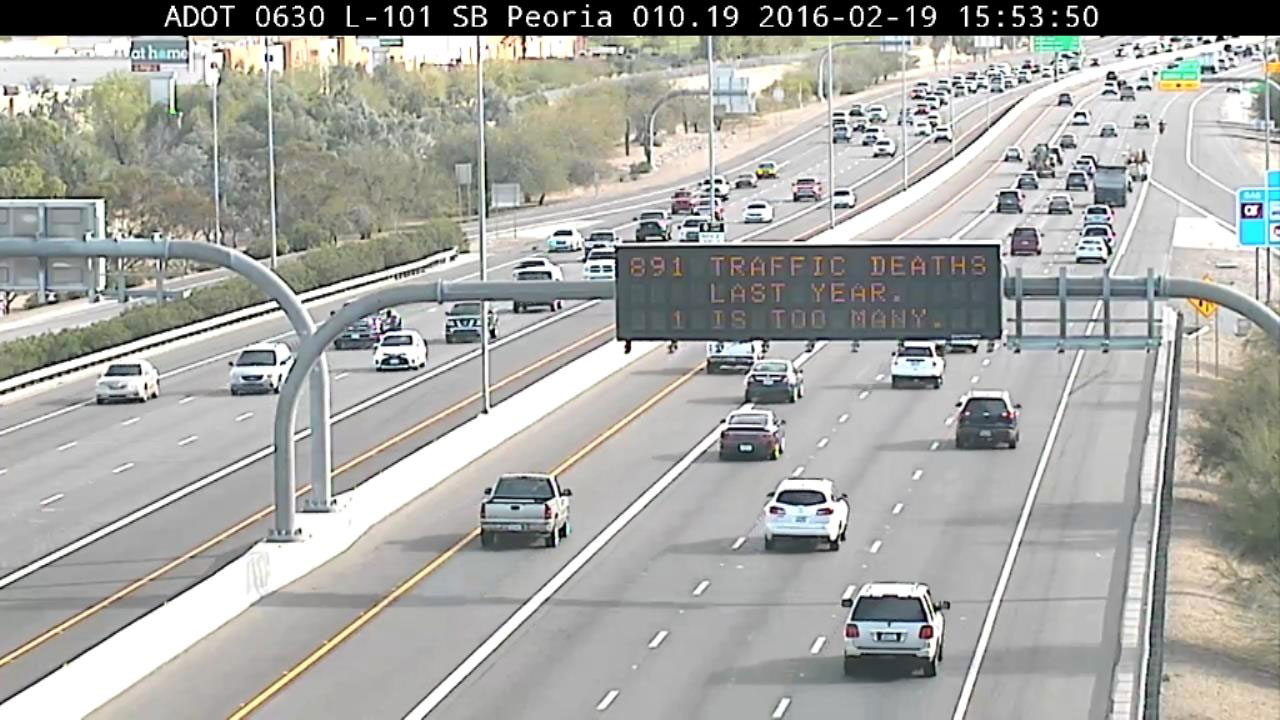 There were 891 motor-vehicle crash fatalities on Arizona roadways in 2015, up from 773 in 2014. And impaired driving, speeding and failure to use seat belts, helmets and other types of occupant protection contributed to many of those deaths…
That increase, while based on preliminary data, is why ADOT and its partner agencies are spreading the word that Arizonans can help reduce the toll for 2016 through the decisions they make in the driver's seat and before they drive.
We hope you'll notice a new message on some dynamic message signs throughout the state this weekend. It highlights the number of traffic deaths in 2015 to spark a conversation among drivers. The goal is to get people talking about traffic safety.
So, what do you say … will you reach out to a friend or family member about safe driving? In case you're not sure where to start, here are a few talking points to get the discussion going:
Aggressive driving is a leading cause of crashes in Arizona, in part because it usually involves speeding. Signs that you're driving aggressively include tailgating, making frequent lane changes, speeding, running red lights and taking out frustrations on fellow motorists. If you find yourself driving aggressively, try relaxing, perhaps by listening to soothing music; driving the speed limit, which helps reduce the risk of a crash; and identifying a less-congested route for your trip. Know that driving aggressively isn't worth the risk.

At least 34 percent of those killed in motor-vehicle crashes in 2014 weren't wearing safety devices, including seat belts and helmets, according to ADOT's Arizona Crash Facts Summary. Set the right example by wearing your seat belt every time you drive. Model the behavior you want others to follow, especially your kids. Make sure all passengers are buckled up properly or properly restrained in the appropriate car seat. Remember that in addition to saving lives, car seats are required by Arizona law for children up to a certain age and height.

Over time, impaired driving has been involved in 34 percent of all fatal crashes in Arizona and in 20 percent of crashes resulting in serious injuries. There's never an excuse to drive impaired. There's also no excuse for any of us or our loved ones to ride in a vehicle with an impaired driver behind the wheel.
Visit our website for more details on the 2015 numbers and to see how the leaders of various state agencies are calling on Arizonans to reflect on how they act in the driver's seat.
You can also get a look at our Strategic Highway Safety Plan by visiting azdot.gov/shsp. It's developed by ADOT in collaboration with stakeholder groups and other agencies, including the Governor's Office of Highway Safety, the Arizona Department of Public Safety and the Arizona Department of Health Services. It provides a comprehensive framework for reducing fatalities and serious injuries on public roadways.