Half-Diverging Diamond Interchanges
Half-Diverging Diamond Interchanges
The 22-mile South Mountain Freeway includes two half diverging diamond interchanges, commonly known as DDI's. These interchanges, located at Desert Foothills Parkway and 17th Avenue are the first of their kind in the state. DDI's are an innovative, proven solution to improve safety and mobility for motorists, cyclists and pedestrians.
View the printable brochure
Navigating a DDI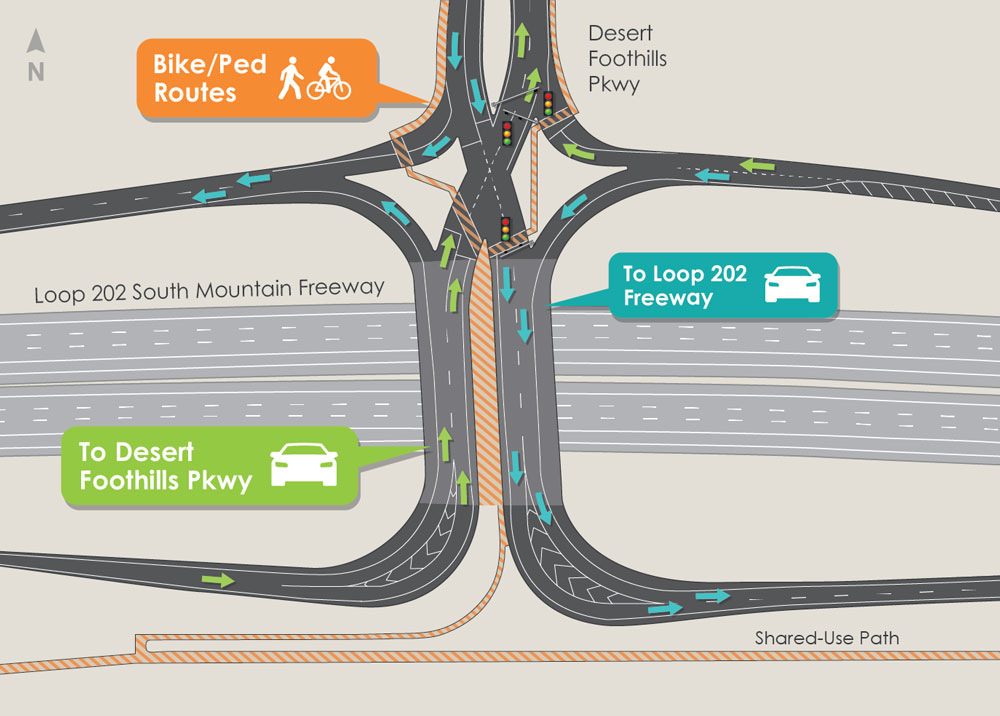 Spanish and larger version are available.
Diverging Diamond Interchange Frequently Asked Questions
1. What is a Diverging Diamond Interchange?
A Diverging Diamond Interchange (DDI) is a simple design innovation that addresses congestion and safety by allowing vehicles to travel more efficiently through an interchange. A DDI increases traffic flow by temporarily transitioning traffic to the left side of the road, allowing through-traffic and left-turning traffic to proceed through the interchange simultaneously, eliminating the need for a signalized left-turn. DDIs are particularly effective at locations that have: 
High volumes of left-turn traffic on and off of freeway ramps
Left-turn related safety challenges 
Moderate and unbalanced crossroad traffic through the interchange
A need for additional capacity, without widening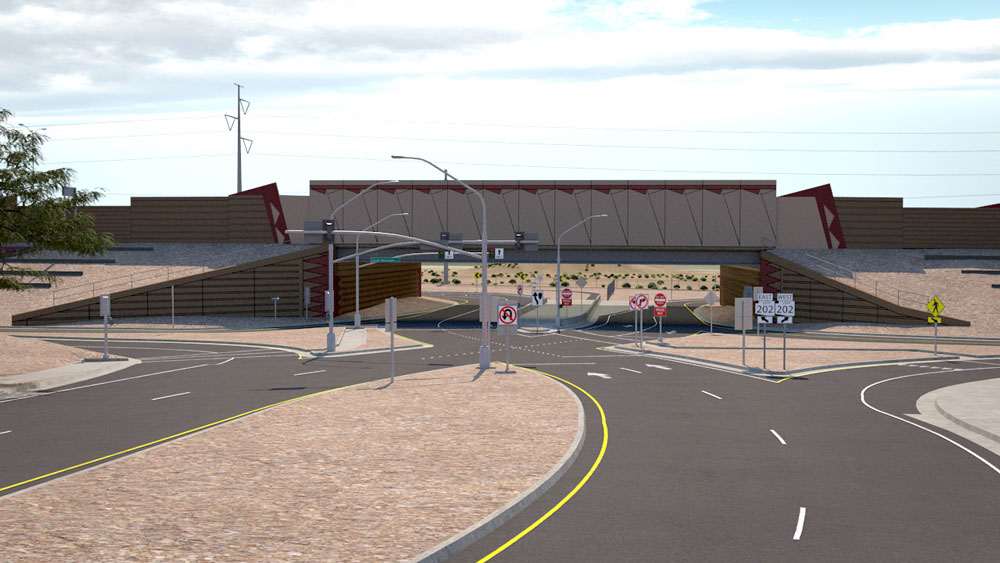 2. Where will the DDIs be located?
3. What's the difference between a DDI and a Half DDI? 
A half DDI is implemented when one travel direction does not extend past the interchange, limiting access to only three directions. Desert Foothills Parkway and 17th Avenue do not extend south of the Loop 202, eliminating the need for a full DDI. However, if a future connection to the south is needed, it can be easily added to the current design.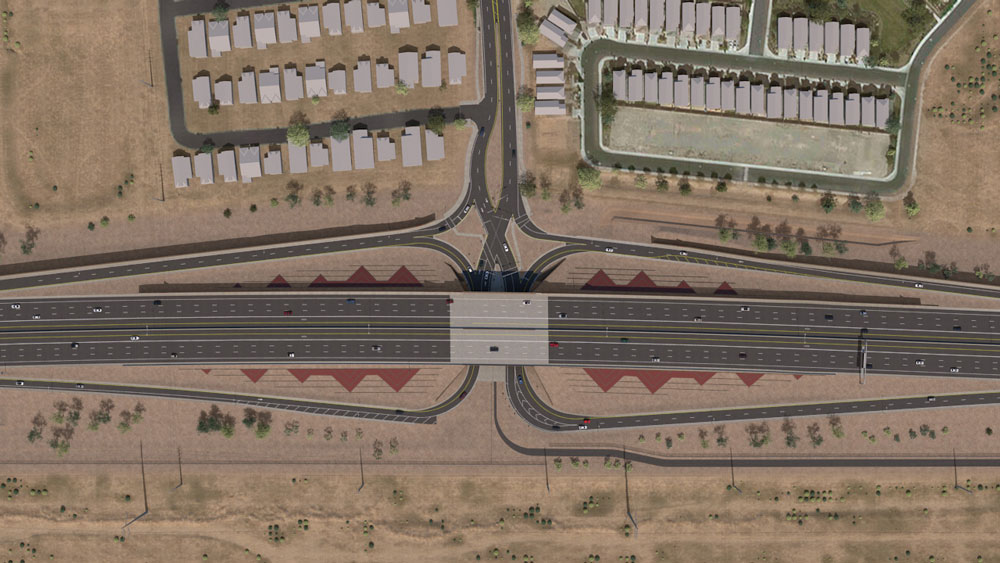 4. Can Pedestrians and Cyclists cross the interchanges?
Yes, pedestrians and cyclists can use a series of signalized crossings and barrier protected walkways to cross the street or access the 6-mile long shared-use path between 17th Avenue and 40th Street which is anticipated to open in fall 2020.
5. Can Cyclists access the shared-use path from roadway?
Cyclists traveling in the shared lane or within the shoulder can access the shared-use path by reducing speed while approaching the interchange. When signaled to do so, cyclists will cross the interchange with vehicles, but follow directional signage to merge on to the barrier-protected sidewalk toward the shared-use path.
6. When will the shared-use path open?
The 20-foot wide, 6-mile long shared-use path between 40th Street and 17th Avenue will open in 2020.