SR 264 MP 465 to New Mexico State Line
SR 264 MP 465 to New Mexico State Line
Contents
This project is complete
Overview
Project Cost: $7.2 million
The Arizona Department of Transportation has completed a pavement preservation project on State Route 264 in far northeastern Arizona starting at milepost 465 to the New Mexico state line (milepost 476). This roadway is the main thoroughfare connecting east-west traffic to the capital of the Navajo Nation in Window Rock.
The project began in spring 2022.
Project Elements
The purpose of the project is to extend the life of the pavement. The work will include:
Removing the existing surface pavement and replacing it with new asphalt.
Spot pavement repairs.
Restriping the roadway.
Project Area Map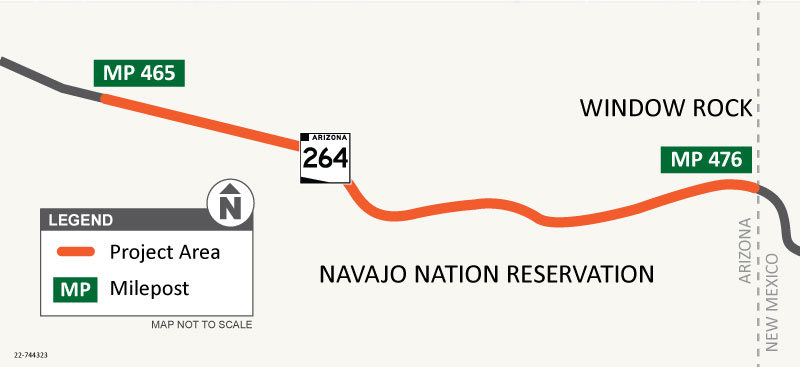 What to Expect During Construction
Lane restrictions and flagging/pilot car operations will be in place at various points along the roadway while the pavement project is underway.
ADOT will post information about traffic restrictions and closures as it becomes available. To receive traffic alerts and other updates by email, please subscribe here.
You can also stay informed of real-time, project-related traffic restrictions by visiting az511.gov or call 511, except while driving.
Schedules are subject to change because of weather or other unforeseen factors. Remember to slow down and use caution around construction workers and equipment. 

Pavement project begins on SR 264 near Window Rock
Drivers should expect delays
The Arizona Department of Transportation advises drivers to plan for the following travel restrictions along State Route 264 near Window Rock, from Monday, July 25, to Friday, August 19.
East- and westbound SR 264 will have lane restrictions along the divided four-lane sections of roadway between mileposts 465 - 476.
Flaggers will direct traffic through the work zone in the two-lane sections of the roadway, which will be reduced to one lane of alternating east- and westbound travel.
The speed limit will be reduced in the work zone.
Drivers should proceed through the work zone with caution, be prepared to stop and watch for construction personnel and equipment. 
Drivers should plan for delays while traffic traverses the work zone safely.
The restrictions are needed so crews can safely conduct pavement surface repairs and other related work. The construction project is expected to be completed by the fall 2022.
For more information, visit the project web page.
Stay Informed 

By Email: Subscribe to receive traffic alerts and project updates directly to your email.
By Phone: ADOT Project Information Line: 855.712.8530
Teléfono: Línea de Información del Proyecto ADOT: 855.712.8530
Online: Submit a question or comment through the ADOT website by visiting azdot.gov/Contact and then select "Projects" from the dropdown menu.
By mail: Write to ADOT Community Relations, 1655 W. Jackson St., MD 126F, Phoenix, AZ 85007.
ADOT Project Number: 264 AP 465 F0403 01C; Federal-Aid Number: 264-A(222)T