US 93 Corridor Projects
ADOT has dedicated nearly half a billion dollars to widening and improving US 93 from Wickenburg to Hoover Dam over the last several years. ADOT's long-term vision is to transform this highly traveled route into a four-lane divided highway through the entire 200-mile stretch. The US 93 series of projects is a priority for ADOT and has significantly improved our state highway system to move people, goods and services more efficiently.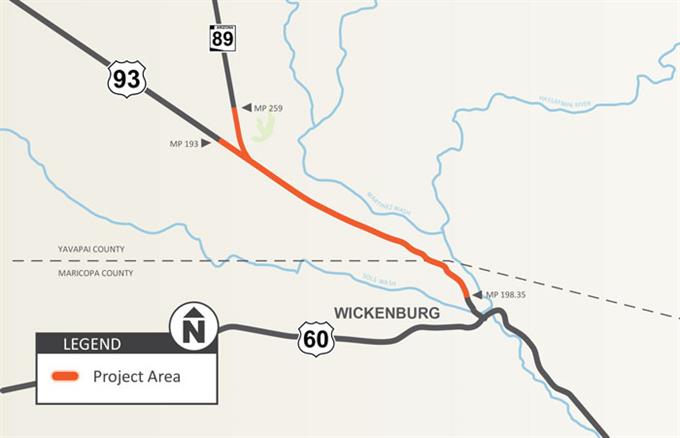 Current Projects
US 93: Tegner Street – State Route 89
Public Meeting Information
The Arizona Department of Transportation in conjunction with the Federal Highway Administration is planning to improve the safety and traffic operations on US 93 from State Route 89 (milepost 193) to the Wickenburg Interim Bypass (milepost 198) in Wickenburg.
The project will consist of the following:
Widening US 93 to two lanes in each direction in the project area
Constructing raised center medians
Constructing access frontage roads
Constructing roundabouts at Rincon, Cope and Vulture Mine and Scenic Loop roads, and at State Route 89
The project straddles a county line, with about 30 percent in Maricopa County and the remaining 70 percent in Yavapai County.
Construction is scheduled to begin in 2023.
US 93, North of Wikieup (Carrow-Stephens road widening)
In December 2020, ADOT finished converting over three miles of US 93 north of Wikieup to a four-lane divided highway. This project connects two sections of highway that had already been widened. This provides a continuous stretch of divided four-lane highway from milepost 108, about 15 miles south of I-40, and milepost 121 near Wikieup.
The upgrade to a four-lane divided highway improves traffic flow, supports the movement of freight and enhances safety through this heavily traveled corridor.
The majority of the 200-mile drive from Wickenburg to the Nevada state line has been widened. Fewer than 40 miles of US 93 remain a two-lane highway.
Current Studies
Mohave County and the Arizona Department of Transportation have initiated a feasibility study to evaluate potential safety improvements to the intersection of US 93 and Pierce Ferry Road. Learn more on the US 93 at Pierce Ferry Road Feasibility Study page.
Completed Projects
Kingman to Hoover Dam (milepost 2 to 17)
In November 2010, ADOT completed construction on the final 15 miles of roadway south of the Hoover Dam, providing motorists with a continuous four-lane divided highway on Interstate 40 between Kingman and the new Hoover Dam Bridge.
Project construction included widening an existing 15-mile roadway section, and providing significant highway improvements. The $71.3 million lane widening project includes a new trailhead at milepost 4.1, and a new scenic overlook at milepost 13.5. The existing overlook (milepost 12.7) has also been upgraded. Three wildlife crossings over US 93 were constructed at mileposts 3.3, 5.2, and 12.2 to protect motorists and provide a safe crossing for the Desert Bighorn Sheep, native to the Black Mountains.
US 93 Pavement Preservation Project from State Route 89 to Rincon Road
The Arizona Department of Transportation completed work on a five-mile repaving project in May 2017,on US 93 between State Route 89 and Rincon Road (mileposts 193 to 198) in Wickenburg.
This $1.9 million project consisted of new rubberized asphalt, guardrail replacements, new striping and other miscellaneous work.
US 93 South of Interstate 40
The first segment on South US 93, spanning 36 miles between Wikieup and Santa Maria was completed in February 2008. This section of the highway was divided into 9 different projects. It included widening the highway to four lanes and building two bridges one at Burro Creek and the other at the Santa Maria River.
Southbound Wagon Bow Ranch and Southbound Deluge Wash
Construction to widen and improve a seven-mile segment of US 93 north of Wikieup (milepost 109 to 116.3) was completed in July 2012. The $26 million project provides motorists with new southbound lanes and another completed section of four-lane divided highway.
Wikieup to Interstate 40
ADOT has completed 4 widening projects between Wikieup and I-40. Construction on the Southbound Ranch Road project, located 17 miles north of Wikieup (milepost 104 to 106), was completed in late 2009. The $5.8 million lane widening project, funded by the American Recovery and Reinvestment Act, provides two additional miles of four-lane divided highway.
McGarry's Wash
Construction on US 93 at McGarry's Wash, located just south of the I-40/US 93 traffic interchange (milepost 91.7 to 95.2), was completed in October 2008. The $9.8 million project consisted of constructing a parallel roadway to create a four-lane divided highway.
Old US 93 to Antelope Wash
The $20 million four lane widening project from old US 93 to Antelope Wash (milepost 91.4 to 101.9) was completed in January 2007.
Tompkins Canyon
Construction north of Wikieup near Tompkins Canyon (mile post 119.5 to 121.2) consisted of parallel roadway to create a four-lane divided highway. The $10.6 million project was completed in November 2008.
US 93 Wickenburg Bypass
In February 2010, ADOT completed the Wickenburg Interim Bypass which has relieved the congestion at the intersection of US 93 and US 60 in downtown Wickenburg. The $30 million project included constructing a four-lane divided highway, two roundabouts and a new bridge.
Future Projects
Remaining highway improvement projects include
Cane Springs
Gap Projects
* Project schedules can change based on available funding and statewide priorities.
Restrictions and Closures
For information about project-related restrictions and closures please visit az511.gov or call 511, except while driving.
ADOT will provide more information about project schedules and potential traffic impacts as information becomes available.
Stay Informed!
By email: Subscribe to receive project updates and traffic alerts.
By phone: ADOT Bilingual Project Information Line: 855.712.8530
Online: Visit azdot.gov/contact and select Projects from the drop-down menu