State Route 88 (Apache Trail)
Due to the potential for severe flooding from areas burned in the Woodbury Fire in June 2019, a 5-mile, unpaved section of State Route 88 (Apache Trail) from the Fish Creek Hill Overlook/Rest Area (milepost 222) to mile post 227 (near Reavis Trailhead Road) remains closed for public safety reasons, due to extensive roadway damage and rock debris.
The Woodbury Fire consumed almost 124,000 acres of the Tonto National Forest. In September 2019 a storm dumped approximately six inches of rain onto the fire scar and the runoff severely damaged large portions of the road, with the most damage being in the area between Fish Creek Hill Overlook and milepost 227 (near Reavis Trailhead Road). The damage included a large rockslide that left that section of the road unpassable. The runoff from the Woodbury fire burn scar is considered an ongoing risk with future storms.
While ADOT has a highway easement for SR 88, the underlying landowner is the US Forest Service. ADOT, in cooperation with the U.S. Forest Service and Arizona Game and Fish, is currently allowing UTVs, equestrians, hikers, and bicyclists to access public lands via SR 88 at Reavis Trailhead Road. ADOT, in conjunction with the US Forest Service, namely the Tonto National Forest, will continue to put public safety first in consideration of allowable uses on the closed portion of SR 88.
ADOT crews have worked to restore access to key destinations along the trail, including Tortilla Flat and Canyon Lake. Motorists can also reach Apache Lake by taking SR 188 either from US 60 or SR 87 and taking SR 88 west from Roosevelt.
As conditions and roadway restrictions/closures change along SR 88, ADOT will continue to inform the public.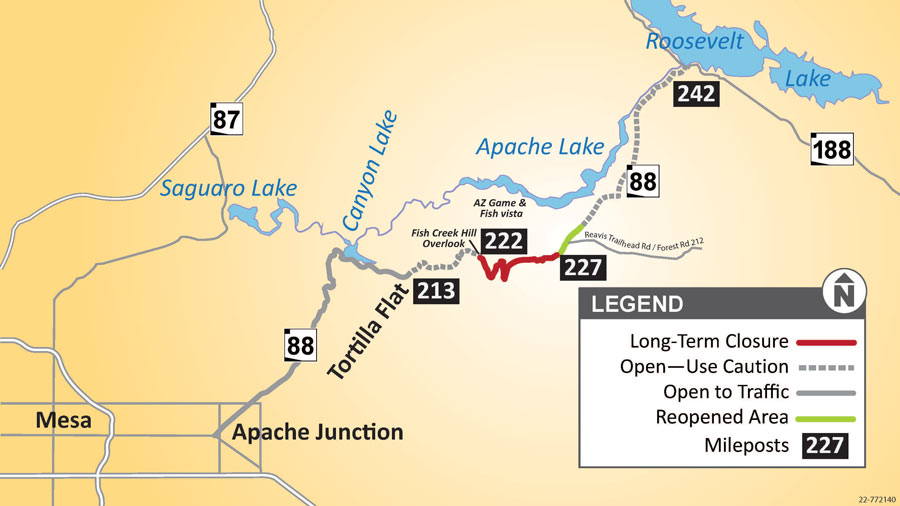 Next Steps
The state legislature has appropriated funding for an SR 88 study to evaluate revegetation in the Woodbury burn scar area and what options are feasible from a long-term construction and maintenance cost perspective on restoring access to Apache Trail and the Tonto National Forest area. Based on the study findings, ADOT can determine how best to proceed.
ADOT anticipates the study will be completed in 2023.
Background
State Route 88/Apache Trail was constructed in 1904 to provide construction access for the Roosevelt Dam, which was completed in 1911. Much of the route, particularly east of Tortilla Flat, retains its original historic character.