From the Director: Calling I-17 a 'deadly highway' misses the point
From the Director: Calling I-17 a 'deadly highway' misses the point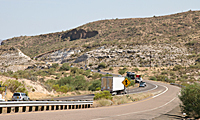 By John Halikowski / ADOT Director
Recent news coverage of a company's study of highway fatality figures featured attention-grabbing headlines such as "Deadly I-17." But as a statewide community, we need to take a step back and promote safety when such coverage gives people the impression that the highway is to blame.
Misleading headlines aside, and putting aside that the sources cited for this alleged study began with Wikipedia and included ValuePenguin.com, it's time for a reality check: You're missing the point if you focus on the highway instead of the behavior of many who drive it.
We need to understand that driver behavior is the leading factor in highway crashes.
Too many drivers are speeding. Too many drivers are impaired, some to the point where they enter a highway in the wrong direction. Too many of us are driving distracted and not paying attention to what should be our No. 1 responsibility: simply driving, and doing so safely.
Too many of us still don't wear seat belts. Every year, not buckling up is a leading factor in crash fatalities. More than a quarter of the 962 people killed in motor vehicle crashes here in Arizona last year weren't wearing seat belts.
Folks, it's not about the highway. I-17 is a safe highway, designed to meet exacting safety standards. But as with any highway, safety is dependent upon smart driving.
Studies that focus on the number of fatalities on a highway are simplistic. Professional engineers and analysts will tell you that fatalities alone shouldn't be the sole indicator of a roadway's safety performance. You need to look at other variables, such as traffic volume and all types of crashes ranging from minor fender benders to severe injury and fatal collisions. Vehicle condition and access to emergency services are just two of many other factors to be taken into account.
An ADOT analysis conducted before the start of a recent safety improvement project along I-17 in the Black Canyon City region found that Department of Public Safety troopers cited "speed too fast for conditions" as the leading driver violation in more than 40 percent of crashes in that occurred in that area between 2011 and 2015.
The safety project along that mountainous section of I-17 has added new signs, including overhead message boards to provide drivers with highway condition and safety information. There are six new "speed feedback" signs with display screens to show vehicle speeds or the words "too fast" and "slow down" to advise drivers who are speeding. When the pavement in that area was recently upgraded, bright new reflective pavement markings were one of the safety measures. They make it easy to see the travel lanes, especially at night.
However, any such measures cannot offset unsafe driving. Speed limits are out there for a reason: safety. Seat belts are in our vehicles for a reason: safety. And not driving while impaired has an impact on, you got it: safety.
In recent years, ADOT completed a climbing lane on the I-17 grade south from Camp Verde. And we've moving toward improvements to the stretch immediately north of the Valley by conducting a study of the area between Anthem Way and State Route 69 at Cordes Junction before finalizing plans for adding new lanes and other safety enhancements.
With the help of funds from the Maricopa Association of Governments, which serves as the metropolitan planning organization for the Phoenix area, projects to add new I-17 lanes in areas between Anthem and Black Canyon City are now scheduled for construction in the years 2021-22.
The concept of building "Demand Lanes" between Black Canyon City and Sunset Point, for use as needed by the busiest direction of travel or in the event of a closure, is just one idea being considered for that mountainous section of I-17. Funding for improvements in that area hasn't been identified.
Changing the crash and fatality numbers are directly linked to the steering wheel in your hands. Those numbers can go up or down, but it depends on the choices we make behind the wheel, and the actions we take to let others know that drinking, drugs, cell phones and driving are a deadly mixture. Help me save lives. Please!
---

This post originally appeared on ADOT Director John Halikowski's
LinkedIn page. He has led the agency since 2009.