Get motorcycle safety training from the pros
Get motorcycle safety training from the pros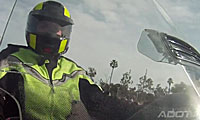 May is Motorcycle Safety Awareness month, a time when all motorists are reminded of how important it is to safely share the road.
It's also a great opportunity for us to share today's video…
As you can see, the focus is on the value of enrolling in a professional motorcycle rider training course.
By attending an approved rider training course, motorcyclists of all skill levels not only have the chance to obtain professional instruction to become a safer rider, they are also able to acquire their motorcycle endorsement easily and conveniently.
"One of the advantages of taking a driving training course for motorcycles is you take the driving test and you go through all the different maneuvers you would at MVD," says Juanita Cason in the video above. "You also take the written test that you would do at MVD, only by taking it in class then you get a piece of paper once you pass and you just take that piece of paper down to MVD and they actually give you your driver license endorsement"
More information from the Motorcycle Training Foundation can be found online. You'll also find the Motorcycle Operator Manual, along with a list of authorized motorcycle training providers on ADOT's website. We also invite you to revisit some of our previous motorcycle safety blog posts.