Adding more features to ServiceArizona.com helps you avoid the line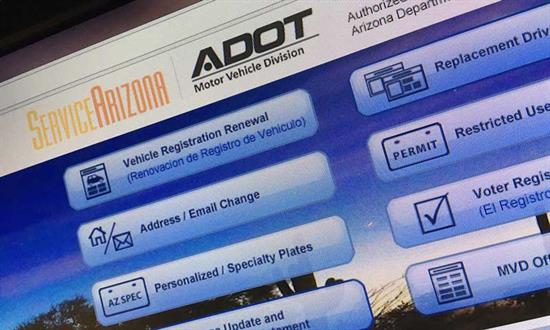 By Doug Nick / ADOT Communications
We like to talk a lot about how more than half of the things you might need to do with the Motor Vehicle Division can be done online at ServiceArizona.com.
Now we've added two more things you can do at ServiceArizona.com, and they both involve something that the law says every vehicle owner in Arizona must have: insurance.
So if you look at the ServiceArizona.com home page, you'll see two new tabs:
The Insurance Update is free and allows customers to electronically provide information regarding their insurance coverage directly to MVD. Why is this a big deal? Insurance companies are given seven days by law to update policy information when changes such as cancellations or renewals occur. Sometimes there may be a lag in that reporting time from an insurance provider, so this online option will help customers with valid insurance to immediately update their MVD record and avoid a suspension.
The second tab is the Reinstatement Function. It allows customers to reinstate vehicle insurance that had been previously canceled or lapsed. The function will determine eligibility for reinstatement, make real-time updates to the MVD customer database upon completion, allow the customer to pay the $50 fee for each vehicle reinstatement, and provide a receipt confirmation that indicates the registration has been reinstated.
We'll keep finding ways to make your MVD experience as quick and easy as possible. If it saves you a trip, it's a win because it gets you out of line and safely on the road.