ADOT Kids recognized for role during unprecedented times
ADOT Kids recognized for role during unprecedented times
By David Rookhuyzen / ADOT Communications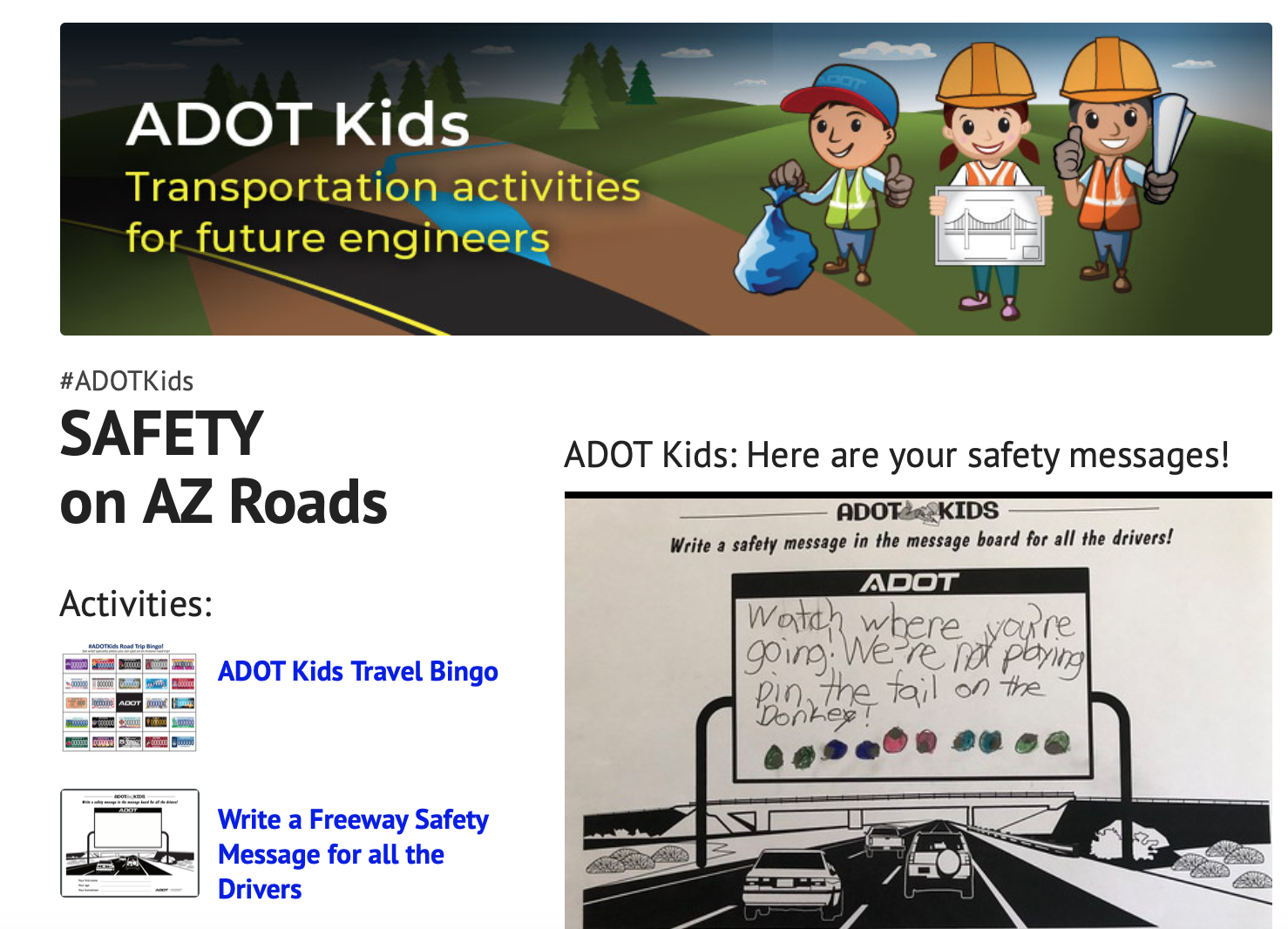 Earlier this year, when living rooms became classrooms and personal studies became work offices, the ADOT Communications team knew it wanted to find some small way to help all the kids – and their parents – who were suddenly spending more time indoors and away from friends and family.
That's why we started ADOT Kids, a series of educational blogs posts and activities focused on fostering a love for transportation, engineering and infrastructure, while also providing some home-based, socially distanced fun. Since April, kids have been able to learn about snowplows, build toothpick bridges, submit their own freeway designs, and so much more.
We sure loved seeing everything the kids submitted, such as what they would put up on our overhead digital signs. ADOT Kids has been a hit with children, parents and educators as well as ADOT employees who have also served as subject-matter experts in answering questions from children.
And, it seems some other folks out there thought this was a good idea too.
You see, since 2007, the Transportation Research Board had sought out the best ideas and innovative practices among agencies to explain complex transportation topics to a general audience, in the form of its John and Jane Q. Public Competition. For this, the competition's 14th year, the theme was appropriately "Success Communication during Disruptive, Crisis Situations." 
Turns out that ADOT Kids fit the bill perfectly. The Transportation Research Board let us know that the series took away top honors in the competition, adding "We applaud your initiative to make the extra effort to ensure the important work of the transportation profession is accessible to the public!"
ADOT Communications will be recognized at the board's annual meeting in January – held virtually, of course – and will have the opportunity to talk up ADOT Kids during a panel session.
To see our small effort to help during the public health situation receive a national award makes us feel as proud as the parents whose children produced these amazing bridge drawings.
Now if only we had a refrigerator to hang it up on.