ADOT takes home award for I-17 wrong-way system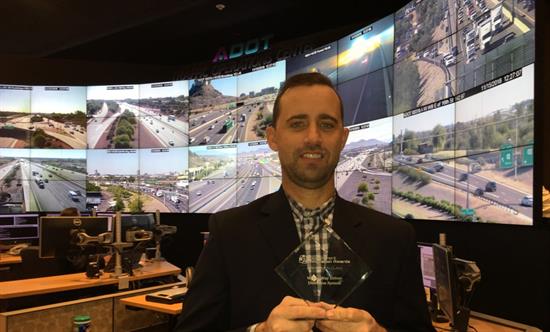 By Doug Nintzel / ADOT Communications
The Arizona Department of Transportation's wrong-way vehicle alert system being tested along a stretch of Interstate 17 in Phoenix has earned a special award for innovation.
ADOT's first-in-the-nation pilot I-17 system, featuring 90 thermal cameras that detect and track wrong-way vehicles, was named the "Best in Class" winner in a Government Innovation Awards ceremony in Washington, D.C.
The system, in operation since January of this year, has detected more than 40 wrong-way vehicles within the I-17 pilot project's boundaries stretching 15 miles from the I-10 "Stack" interchange near downtown Phoenix to the Loop 101 interchange in north Phoenix.
Brent Cain, who leads ADOT's Transportation Systems Management and Operations division, and David Riley, the I-17 system's project manager (shown in the photo above), accepted the award recently during a ceremony held by GCN, an information technology industry magazine and sponsor of the innovation awards competition.
"To earn a best in class award while sharing the evening's event with agencies like the U.S. Navy, NASA and the FBI was very humbling," Cain said. "This award recognizes the commitment of many people at ADOT as well as our private sector partners to reduce the risk of tragic wrong-way crashes, often caused by impaired drivers."
ADOT's I-17 system immediately alerts operators in the agency's traffic operations center as well as the Arizona Department of Public Safety to the detection of a wrong-way vehicle, saving valuable response time for AZDPS troopers in the field and allowing ADOT to quickly post warning messages on overhead signs for other freeway drivers.
Fortunately, the vast majority of wrong-way drivers detected by the system's thermal cameras so far have turned around on off-ramps without entering the freeway.
ADOT earned the Best in Class innovation award in the state and local category. The U.S. Navy won best in class in the defense category while the U.S. Department of Health and Human Services was recognized among federal-civilian finalists.