From the Director: Reducing wrong-way crashes starts with you and me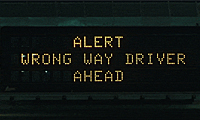 By John Halikowski / ADOT Director
When it comes to reducing the number of vehicle crashes, fatalities and serious injuries, real change has to begin in the driver's seat. Irresponsible drivers that are drunk, drugged, distracted or who think speed limits are a "suggestion" will continue to hurt and kill our loved ones unless we all start doing something about it. We choose how we behave behind the wheel. To make our roads safer, we must choose to take responsibility and keep drunks and drug-impaired people from getting behind the wheel.
This is especially important when trying to prevent wrong-way crashes. About two-thirds of all wrong-way drivers are impaired by alcohol, illegal drugs or prescription medication. These people have no business getting behind the wheel. Yet, impaired drivers remain a leading factor in fatal crashes of all kinds.
On the engineering side, the Arizona Department of Transportation will do everything we can to reduce wrong-way crashes. The first-in-the-nation wrong-way detection pilot project on Interstate 17 is in testing and will be operational in early 2018. We've also installed hundreds of "wrong way" signs on highway ramps and overpasses.
And earlier this week, in partnership with the Department of Public Safety and the Governor's Office of Highway Safety, ADOT launched "Drive Aware, Get There," a wrong-way awareness safety campaign. The goal of "Drive Aware, Get There," is simple: educate drivers on what they can do to increase their safety when driving at night, what to do if they encounter a wrong-way vehicle and what actions to take if they see an overhead sign warning of a wrong-way vehicle ahead.
We all must work together to reduce wrong-way crashes. Please do your part and keep impaired people from getting behind the wheel during the holiday party season and throughout the year.
---

This post originally appeared on ADOT Director John Halikowski's
LinkedIn page. He has led the agency since 2009.