Driver License FAQ
Driver License FAQ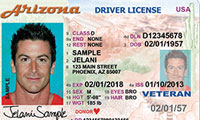 We love hearing from readers of the ADOT Blog! Your questions and comments have helped to inspire many blog topics, including the one we're writing about today…
Over the past several months, many questions related to driver licenses and instruction permits have come our way. With help from our experts in MVD, we have attempted to answer all of them. However, the helpful Q&A is hidden from most readers – unless you're digging through the comments section of an old post, you're probably not seeing the information.
That's why we're sharing some of the most frequently asked questions (and answers) right here in one place...
Q) I am 19 years old and I have never had a license. When I visit the MVD will I be eligible for an instruction permit or do I have to go for a driver license test?
A) It is necessary to have a valid instruction permit or a valid driver license to drive lawfully in the state of Arizona. An applicant would take the written test to qualify for the instruction permit and then practice driving to become proficient to take the road test. The instruction permit is valid for 12 months.
Q) Are the questions from the online practice test actually on the driver license exam?
A) No, the questions on the online practice test are not actual test questions from the driver license or permit exams. The online practice test is an educational tool that gives people an idea of what to expect when taking the real written exam. Taking the online practice tests is in no way a substitute for studying the manual!
Q) My Uncle is turning 70 and his driver license is expiring soon. He has no tickets or accidents. What is required of him to renew his license?
A) Beginning at age 65, an Arizona driver is required to renew his or her Arizona driver license every 5 years. Your Uncle will visit an MVD or MVD Authorized Third Party office, complete a driver license application, have a new photo and vision screening, then pay a $10 driver license renewal fee. A written or road test may be required for any driver – at any age – during an office visit.
Q) How long do you have to wait to take the written exam if you failed the first time?
A) When an applicant fails the written test (for the first time), that applicant can return to MVD or an MVD Authorized Third Party office to retake the written test on the following business day. An applicant can take the written test up to three times without paying another application fee.
Q) Where can I find the Driver License Manual?
A) You can find a PDF version of the Arizona Driver License manual (in English and Spanish) on our website.
Q) I'm 23 and I never took the written test or got my permit when I was a teen. It's about time I got my license. So to start, I have to take the written test and get a permit right?
A) If a person of ANY AGE wants to be on the road lawfully while learning to drive, they will need an Instruction Permit. It is mandatory for driver license applicants under age 18 to hold an Instruction Permit for a minimum of six months. At age 23, you will not be required to comply with the mandatory 6-month holding period, but, in order to learn to drive lawfully, you will need to take the written test and obtain an Instruction Permit. Once you have obtained an Instruction Permit and have practiced driving and believe you are ready for the road/skills test, you can visit an MVD office.
Requirements for a road/skills test:
* A currently registered and insured vehicle – must show proof-of-insurance
* A licensed driver must accompany the permitee to the test
Q) I'm 21. I never had a driver license just a permit from high school, which is now expired. I heard that you can go to a driving school and take driving lessons to get a license without having to take a road test. Is this true?
A) Driving Schools do not issue waivers. You will need to pass the written test and obtain an Arizona Instruction Permit so you may practice driving lawfully and prepare to take the MVD road test. When you successfully complete the road test, you will be eligible to apply for an Arizona Driver License.
Looking for even more FAQs? Visit our MVD website for additional information.