Hey, ADOT Kids! Try our word scramble, learn some interesting facts about license plates!
Hey, ADOT Kids! Try our word scramble, learn some interesting facts about license plates!
By Audrey St. Clair / ADOT Communications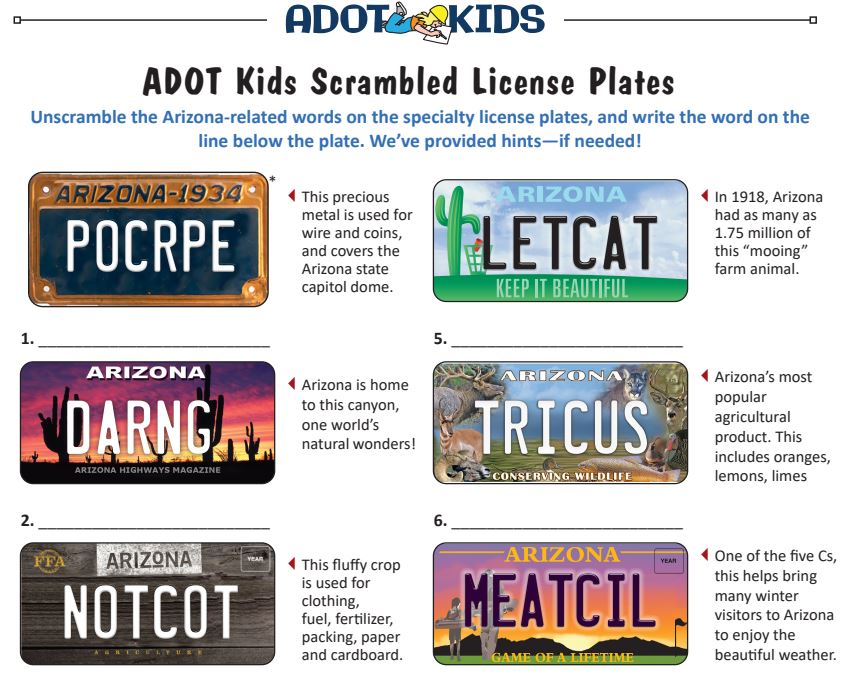 Here's a little history: When the automobile was invented, there were so few of them that license plates were not necessary. As cars started to outnumber the horse and buggy, many states began to require license plates to identify the car and owner. 
In 1901, New York was the first state to require owners to register their cars. The first plates were homemade, with only the letters of owner's initials, no numbers. Since there were no transportation departments (like ADOT) to provide them, car owners had to make their own license plates by hand, out of things like leather or metal. For a couple of years (around 1931), Arizona made license plates out of copper, which was eventually replaced by steel. You can read more about Arizona's copper plates in this blog.
Arizona is one of the few states that now allow the new digital plates that convert letters and numbers into pixels on a digital screen. Digital license plates can show messages, like if the car had been stolen, or other alerts.
Do you want to impress your friends with some license-plate trivia? You will never see the letters I, O, Q or U printed on standard plates. Why? Because those letters could be confused with the numeral one or be seen as zeros on a fast-moving vehicle. (If you see an "0" on a standard plate, it is a zero.)  Since license plates are used to identify cars and trucks by police officers, it's important that they are easy to read.
And here's what you've been waiting for…another fun ADOT Kids activity! The Scrambled Word License Plate game features some of the state's newest specialty license plates with scrambled Arizona-themed words (and some hints, if needed)!  See if you can unscramble all eight words! You can find out more about ADOT's specialty plates here. Curious about how ADOT makes license plates? Read more here.
Check out azdot.gov/ADOTKids! ADOT Kids is a website created to spark children's curiosity in how things work and what makes things go, tapping into their interest in science, technology, engineering and math in a fun way!  ADOT Kids has lots of free, downloadable activities like mazes, word games, coloring sheets, links to videos and more!