Protect your child with an Arizona ID card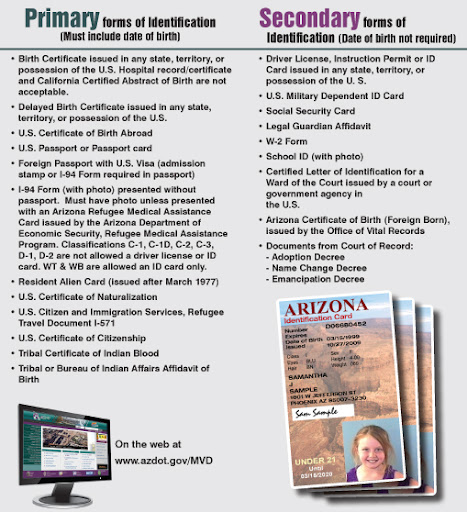 As the summer holiday travel season nears, there is an easy step you can take to protect your child in case of an emergency.
Through the ADOT Motor Vehicle Division, you can obtain an Arizona ID card for your child. It looks similar to a driver license, but is used for identification purposes only.
Having a photo identification card for your child is valuable in emergency situations. It assists law enforcement agencies to rapidly distribute your child's information and photograph in case of an Amber Alert.
Having an ID card also can help prevent against identity theft and may even be useful when traveling in and out of the country.
All ages are eligible to receive a state ID card – even babies. The cost is $12 and you'll need to bring the child's social security number and a few forms of identification with you when you stop by the MVD office nearest to you.
See the photo above for examples of primary and secondary documents you may bring when applying for a card. Two of the documents are required if one has a clear photo of the child. Otherwise, three documents without photos can be shown. You must bring at least one identification document that's listed under "primary." The others can be off the "secondary" list.
And, don't forget … it will be important to update your child's information and photo as they grow and change. Photo updates are available at MVD offices – a duplicate card with the new photo is $12.