Adopt a Highway: Few words, many memories on Memorial Day
Adopt a Highway: Few words, many memories on Memorial Day
By Mary Currie / ADOT Communications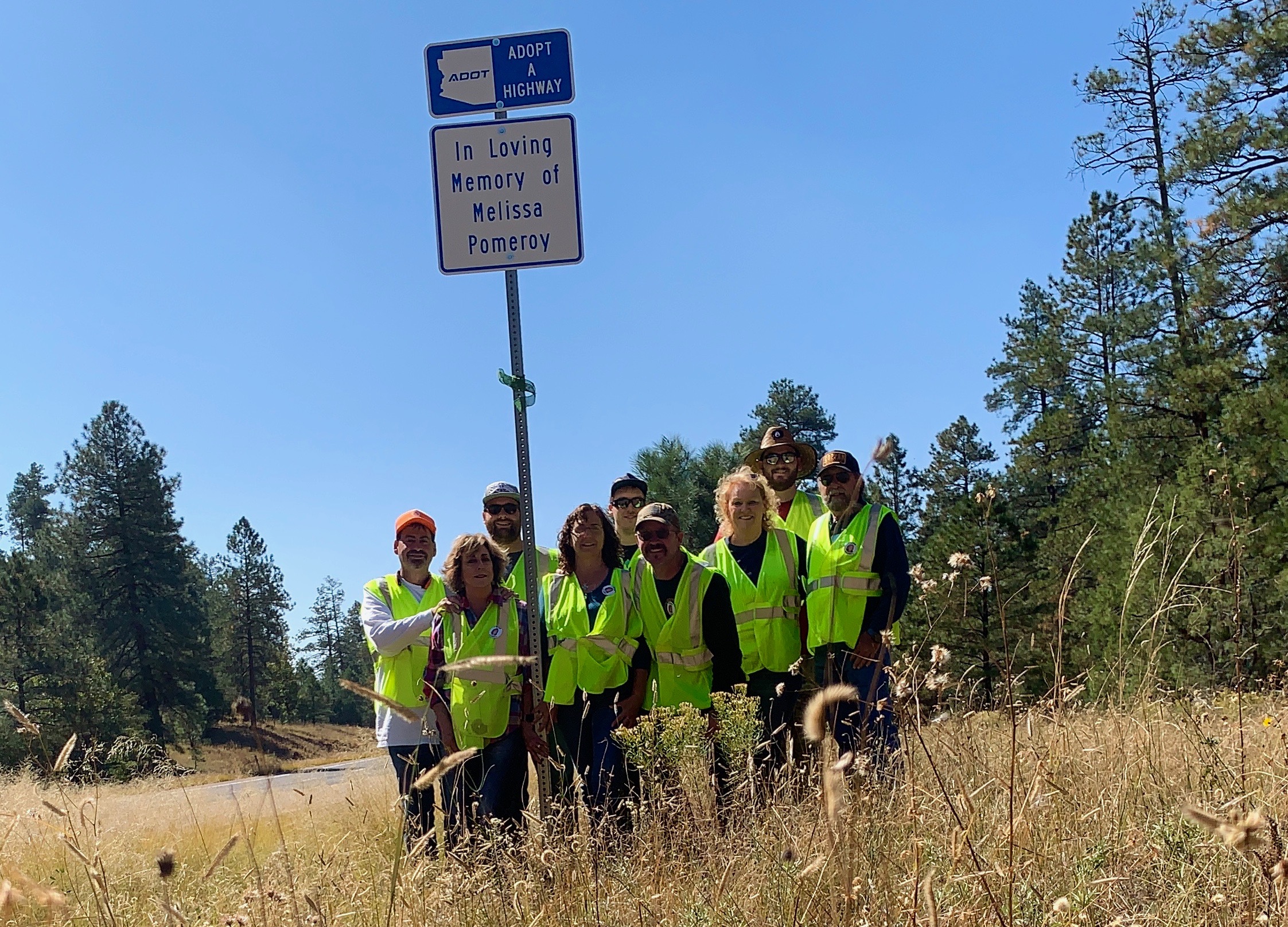 On this Memorial Day, a special thank you to Adopt a Highway Volunteer program groups – over 400 statewide, who gather at adopted segments during the year to clear litter in remembrance of beloved family members, both human and furry. Expressing honor by serving the community is a choice ADOT understands and appreciates. 
Traveling northbound toward Show Low on US 60, watch for a mile dedicated to Melissa Pomeroy. For the past three years, Melissa's sign greets motorists at mileposts 334 and 335. Melissa unexpectedly passed in 2014 at the age of 49, but her twin Michelle keeps her sister's memory alive within their family. Since 2018, Michelle has participated in the Adopt a Highway Volunteer program and organizes cleanups a couple times a year, mostly with family members. 
South of Florence Junction at SR 79 milepost 144, a memorial sign stands at attention to a brave young Marine.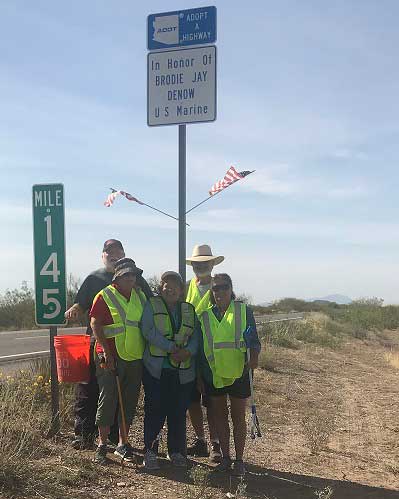 Brodie Denow was committed to serving his country, as his Marine mom does by helping keep Arizona grand and litter-free.
Headed to Payson? The family of Jonathan T. Orcutt adopted a segment to care for on SR 87 at milepost 189 near Fountain Hills in remembrance of their son. Jonathan's family clears litter along this segment more than three times per year, which is proudly displayed on the Outstanding Volunteer Placard below the recognition sign in the photo. 
Adopt a Highway recognition signs hold a maximum of 40 characters to express the name of the volunteer group, which may include a sentiment and name.
"Sometimes, expressing how you would like the sign to read in 40 letters can be a challenge. Adopt a Highway permit coordinators understand and will gladly assist volunteer group leaders to maximize a memorial sentiment printed on the sign," said Mary Currie, the Adopt a Highway program manager. 
In Arizona littering is getting worse. If you are interested in caring for a segment of state highway, we welcome civic-minded groups and individuals that are interested in helping to reduce litter in Arizona by gathering as a group to collect litter a few times per year. Please visit the Adopt a Highway website to learn how.