Adopt a Highway: Gila County Sheriff volunteers serve community along SR 188
Adopt a Highway: Gila County Sheriff volunteers serve community along SR 188
By Mary Currie / ADOT Communications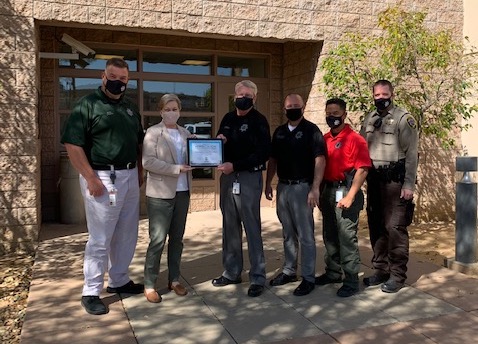 During National Volunteer Week ADOT is extending thanks to all Adopt a Highway volunteers for removing litter from alongside the state highway system that connects Arizona communities. 
However, it is more than volunteering for many. Loved ones, veterans, beloved pets – our personal heroes are honored when volunteers gather to beautify adopted miles. Family and friends reunite and remember.
Gila County Sheriff deputies have done just that for the past 26 years on State Route 188 at mile marker 256. On April 9, Sheriff J. Adam Shepherd, Chief Deputy Mike Johnson, Lt. Virgil Dodd, Undersheriff Matt Binney and Major Justin Solberg were recognized along with other deputy team members who could not be present for their longtime volunteer service.
The group also received outstanding volunteer status as part of a new program dedicated to showcasing volunteer groups who clean up three times or more per year. These groups will be identified by an additional "Outstanding Volunteer" placard installed underneath the standard recognition sign. 
The deputies use their cleanup time to build camaraderie amongst staff and express their sense of pride in Gila County. The hope is that showing their presence will encourage others to do their part in keeping Arizona clean. One of the interesting findings over the years was a wallet they were able to return to its owner.
A deeper significance for the department's choice of adopted mile was shared with me by Chief Deputy Mike Johnson. 
"In 1994 two of our deputies were investigating an accident where a vehicle had struck a deer at mile marker 256," Johnson said. "During the investigation a DUI driver traveling north on SR 188 struck one of our deputies and then hit the patrol vehicle, knocking it into the second deputy.  This is why we chose this particular stretch of highway to adopt in honor of both of those deputies that were injured as a result of the collision."
Whether the deputies are serving on the job or as Adopt a Highway volunteers, they are exposed to the same dangers present when working along the highway. That is why ADOT requires participating volunteers to watch a safety video briefing before each cleanup, to educate and prepare them for a safe and enjoyable experience while working along busy highways.
Johnson had a few words of advice for those wanting to pitch in too.
"Adopt a Highway for the right reason and make sure you plan and are able to fulfill your required cleanups. Above all, have fun with it," he said. 
Thank you to Gila County Sheriff's Office volunteers for serving the community – whether it be through security, searches, rescues and community activities, or beautifying SR 188 and helping to keep Arizona grand.
Want to join the ranks of 1,200 volunteer groups who give back? To learn more visit azdot.gov/aah.