ADOT to begin work on replacement bridge soon
ADOT to begin work on replacement bridge soon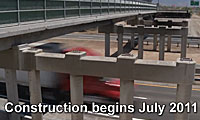 Talk about a quick turnaround … it's been just three months since a fiery crash destroyed the Mescal Road/J-Six Ranch Road bridge in Cochise County and already ADOT has approved a contract to rebuild and reopen the bridge this fall.
Considering the process can normally take up to two years, it is clear this project is critical to the nearby communities.
You might remember that the bridge suffered heavy damage back on March 15 after two semi-trucks collided underneath it. The damage from the resulting fire was so severe that the bridge was demolished by ADOT a few weeks later on April 8.
But, with the bridge gone, so is the link between the communities of Mescal and J-Six Ranch, and that is why the replacement project is on a fast track.
In fact, construction is expected to begin early next month at the site located on I-10 at milepost 297, west of Benson.
The project includes replacement of four columns, retrofit of abutments, installation of new precast concrete girders, construction of the concrete roadway, placement of approach slabs, painting of the existing and new portion of the bridge, pavement marking and other related work.
Federal Highway Administration emergency relief funds, a shortened time frame for designing the replacement bridge and a quick construction bid process all have helped move the project ahead at a rapid pace.
Drivers in the area should know that detours have been in place since March 15, when fire damage to the concrete piers and steel girders required closure of the bridge, which was originally built in 1958. The adjacent pedestrian bridge was not damaged by the fire.