ADOT communication campaigns win 6 national awards
ADOT communication campaigns win 6 national awards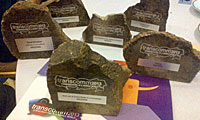 And the winner is … ADOT!
We were thrilled to learn just this morning that ADOT's Communications Division received several awards at the 2013 TransComm conference.
TransComm, by the way, is the yearly meeting for the American Association of State Highway and Transportation Officials Subcommittee on Transportation Communications. That's a long title, but basically this conference is where transportation communicators from state departments of transportation get the chance to learn and exchange ideas with one another.
Held this week in Grand Rapids, Michigan, TransComm is also the place where DOTs are recognized for the work of their communications and public relations teams with the annual TransComm Skills Contest.
So, about those awards
ADOT received the following honors this morning for the 2013 TransComm Skills Contest:
Excel Award (without a consultant) for the Pull Aside, Stay Alive public education program. This honor represents AASHTO's highest award for public relations programs and campaigns! ADOT's entry included details on the Pull Aside, Stay Alive campaign and efforts by ADOT to engage the public using social media, traditional media, public service announcements, a website and signage.
Best Television Commercial or Public Service Announcement for the Pull Aside, Stay Alive video. In only 30 seconds, this impactful video shows viewers the very real danger of driving in a dust storm.
Issues/Crisis Management Communication for the communications program in response to the US 89 landslide. This award recognizes the efforts made and actions taken to communicate information concerning the US 89 landslide, both to residents near Page and to travelers passing through the region.
Best Micro-Blog for the ADOT Twitter account (which now has more than 25,000 followers!!). This award recognizes the use of a social media platform to inform and engage the public.
Best use of social media in a campaign for the Pull Aside, Stay Alive Haboob Haiku challenge (remember #HaboobHaiku?). This award recognizes how ADOT used social media to get the important safety message out.
Best Display for the 20 Years of Partnering trade-show display. We showed you this award-winning display when we blogged about this year's International Conference on Ecology and Transportation. The display also was used at the recent Roads and Streets Conference and other industry events.
TransComm 2014, here we come
You may remember that at last year's TransComm, it was announced Arizona would be the host state for the 2014 conference. Now, the countdown is really on and we're looking forward to hosting our colleagues next year!