ADOT crews on the scene at Wallow Fire
ADOT crews on the scene at Wallow Fire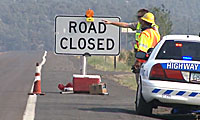 The wildfires burning through portions of the state are destroying so much … from the scenic acreage that will be changed forever to the property loss and the lives so terribly affected.
It's difficult to take it all in.
But if there's anything to be gained from this disaster, it's an even deeper gratitude and appreciation for the fire fighters and support personnel risking so much to battle the flames.
Several ADOT employees are among that support team and not only are they doing all they can in response to the emergency, but many are residents of the towns they're trying to help save. They've stayed behind as friends and family members have been evacuated, in some cases evacuating their own families after their 12-hour shifts.
For the Wallow Fire alone, ADOT maintenance and operations crews from St. Johns, Springerville and Show Low have been on duty day and night keeping motorists out of the fire, allowing firefighters to focus on battling the blaze.
ADOT Maintenance and Operations Tech Brannon Morales sums it up best in the video above, "We've got a job to do and it's keeping the firefighters safe, as well as the public."
Since the fires began and started to threaten towns, residences and lives, these ADOT crews have assisted in coordinating and setting up the closures of hundreds of miles of state highways. That work includes making sure people know about the road blocks through message boards and signs.
But emergency response and working toward keeping the public safe is not new for ADOT. In fact, it's a big part of what ADOT does, according to ADOT Emergency Manager Courtney Bear.
"There are maybe 2,500 firefighters on this but there's probably 1,000 support personnel and we're a part of that support team," she said. "We're a public safety agency… we have a huge public safety component to what we do."