ADOT Kids: Your freeway designs and questions answered!
ADOT Kids: Your freeway designs and questions answered!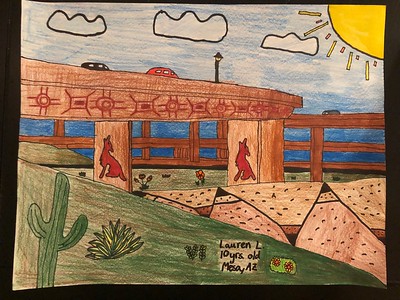 EDITOR'S NOTE: During this unprecedented time, ADOT is creating transportation activities for kids. Please visit azdot.gov/ADOTKids or use the hashtag #ADOTKids on ADOT's Twitter, Facebook and Instagram accounts to see what we have going on. 
By Steve Elliott / ADOT Communications
Over the past several weeks, Friday afternoons have been my favorite time. That's because I get to see videos in which ADOT experts answer your questions about snowplows, bridges and more that are featured in ADOT Kids activities. Today, I'm happy to introduce a video in which Tom Herrmann answers your questions about the Loop 202 South Mountain Freeway. I also get to post the freeway designs and landscaping you created during our latest weekly activity. Great job, everyone! 
About the video: Mr. Herrmann is a public information officer who specializes in major projects including the South Mountain Freeway. It's a big job that requires him to learn about a lot of complex things and then explain them to the public. He works closely with the engineers who designed and built the 22-mile South Mountain Freeway, which opened in December and connects the West Valley and East Valley in the Phoenix area. 
I hope you're enjoying this week's new Keep It Grand coloring challenge. If you share your art to [email protected] by next Wednesday, May 20, we'll post it in a slideshow. 
It's hard to believe that we created ADOT Kids just a little more than a month ago. Since then, we have provided posts and activities pretty much every day. With so many staying at home, we thought ADOT Kids would be a fun way to help everyone feel connected and learn how interesting it is to work in transportation. What we do has a lot to do with science, technology, engineering (obviously) and math. If you've enjoyed these activities, and I hope you have, please consider putting civil engineering onto your list of possible careers. Someday you could help get everyone safely home.
We've enjoyed doing ADOT Kids so much that we're going to continue it even as we all transition back to a more normal routine. We won't be posting every day from now on, but we'll have new activities on the ADOT Blog every month or so. In the meantime, please keep checking the ADOT Kids website at azdot.gov/ADOTKids. You'll find lots of interesting things there.
Now for the most important thing to share: your great art! Thanks, ADOT Kids.