ADOT rolls out new driver license/identification option for veterans
ADOT rolls out new driver license/identification option for veterans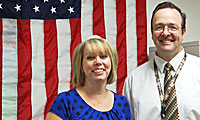 ADOT's Motor Vehicle Division just rolled out a brand new driver license/ID card option especially for veterans.
Starting this week, men and women who have served or are currently in the U.S. Military can have the word "VETERAN" printed on the front of their Arizona-issued driver license, commercial driver license, identification card or instruction permit.
First in line for the new designation were two of ADOT's very own…
Retired Army Sgt. First Class James Fisher and retired Air Force Senior Master Sgt. Wendy Brazier both received their "veteran" designation on Monday morning at the Phoenix West MVD Office, 4005 N. 51st Ave.
"I think it's awesome," Brazier said of the new driver license option. "I'm proud that I have served and that I will always be able to identify myself as a veteran."
What you need to know
Those who would like the designation to appear on their license or ID card should fill out the Arizona Driver License/Identification Card application or Commercial Driver License application and check the Veteran Designation box.
You can bring that application into any MVD field office or authorized third party office that processes driver license transactions. (Don't forget to also bring along documentation verifying your veteran status – see list below).
Initial applications must be received in person and will require a new photo. Once on the customer record, a duplicate (with the Veteran designation) can be ordered online at www.ServiceArizona.com. Standard transaction fees will apply.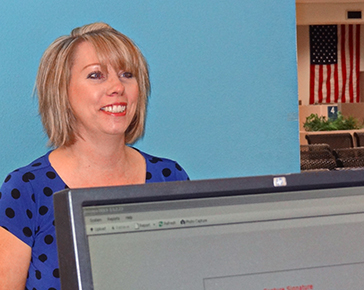 Veteran Designation Documentation (One of the following documents must be presented at the time of application):
Original or copy of DD Form 214 or DD Form 215, DD Form 2 (Retired), DD Form 2 (Reserve)

Active duty military identification card (also known as the United States Uniformed Services Identification Card or the Armed Forces of the United States Geneva Conventions Identification Card)
Find more information online or by visiting any local ADOT Motor Vehicle Division office or authorized third party office that processes credentials.