From the Archives: Dust storm safety
From the Archives: Dust storm safety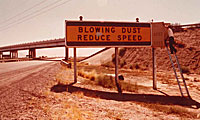 Since the 1970s, major world events have taken place, history's been made several times over and trends have come and gone. But some things haven't changed, like the fact that dust storms (unfortunately) remain a constant hazard for Arizona drivers.
As you can see in these photos from decades past, ADOT was working to warn motorists about the dangers of dust storms way back in the 70s.
At right, a pair of sign shop employees inspects a dust storm informational display that, according to our notes, was one of 29 signs to be placed at rest areas near Interstate 10 and I-8 in the Casa Grande area.
Taken in 1976, the photo shows us a sign that not only warns motorists about the dangers of dust storms, but also suggests the actions that drivers should take.
Can't quite read the sign's text? We zoomed in and were able to make this out:
Dust storms create danger on Arizona roadways
Dust storms strike quickly in Arizona, particularly on Interstate 10 between Phoenix and Tucson and on I-8 from Gila Bend to Casa Grande. Blinding choking dust can quickly reduce visibility, causing accidents that sometimes involve a chain of vehicles that ram into one another, creating massive pileup. Dust storms usually last only a few minutes, but the actions a motorist takes during a storm may be the most important of his life.
While that language sounds fairly similar to the messages that we communicate today, the portion of the sign referring to interstate warning signs is a little outdated.
Interstate signs with changeable messages warn motorists driving on I-10 and I-8 about dust storm danger. Ordinarily, the signs provide information about route designation and directions, but the message 'dust storm alert' appears on signs when dust storm activity is detected. The dust storm alert message refers motorists to locations on the AM radio dial on which dust storm alert warnings are broadcast periodically.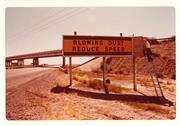 An example of those changeable message signs can be seen in the photo at right and in this previous post. Now in 2015, we use more modern Dynamic Message Signs to get the word out to drivers.
The dust storm poster also provides some safe-driving guidelines that sound pretty close to what ADOT advises today. Here are the first two tips:
If dense dust is observed blowing across or approaching a roadway, a motorist should not enter the area, but drive the vehicle off the pavement as far as possible, stop, turn lights off, set the emergency brake, and make sure the brake light is off.
If dense dust engulfs the roadway, a motorist should not stop on the pavement, but attempt to drive off the roadway as far as possible, following the procedures listed above.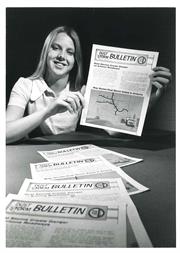 The photo at left shows another ADOT outreach effort. In it, you can see an ADOT public information officer displaying copies of a new (well, it was new back then) warning sheet that was being distributed to motorists at ports of entry, MVD offices and other locations.
We can't quite make out the text, but we see that the "Dust Storm Bulletin" does provide a map showing "dust storm areas in Arizona."
It's fun to look back, but if you want to keep up with ADOT's current safety messaging, you don't have to go far. You can find a wealth of dust storm safety info on our website, here on the blog, YouTube, Facebook, Twitter (@ArizonaDOT) and at PullAsideStayAlive.org. As always, drivers planning trips are urged to monitor travel conditions by calling 511 or by visiting az511.gov.
It's safe to say things have changed since 1912 when the Arizona Highway Department was first established. But you don't just have to take our word … we've got plenty of pictures to prove it. We combed through our archives and decided to periodically post these photos from the past in a blog series we're calling, "From the ADOT Archives."