A big day not just for Nogales but for all of Arizona
A big day not just for Nogales but for all of Arizona
By Steve Elliott / ADOT Communications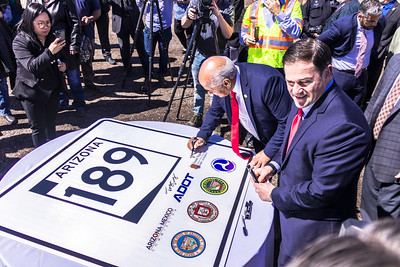 On March 4, Governor Doug Ducey and others gathered in Nogales to break ground for a project improving State Route 189, the 3.75-mile state highway connecting the Mariposa Port of Entry and Interstate 19. This is a big deal not just for Nogales and Santa Cruz County but for all of Arizona and beyond, as SR 189 carries a large share of the winter produce consumed in the United States and plays a big role in the state economy. 
The Mariposa Port of Entry saw about $24.1 billion in imports and exports in 2018, and up to 1,800 commercial trucks a day use SR 189 during winter months.
The video at right allows you to experience the excitement of the groundbreaking ceremony and learn more about the $134 million in improvements coming to SR 189, known locally as Mariposa Road. These include flyover ramps connecting with the interstate that will eliminate the need for commercial trucks to stop as many as three times between I-19 and the international border.
With the flyover ramps connecting with SR 189 west of Frank Reed Road, the improvements will enhance safety for students of nearby Nogales High School. The project also includes a new roundabout at Target Range Road and improved drainage and traffic signals. 
Construction is expected to begin in April and take about 18 months to complete. You can learn more about SR 189 improvements and their value to Arizona's economy at azdot.gov/SR189.